20 Amazing Resources to Learn Copywriting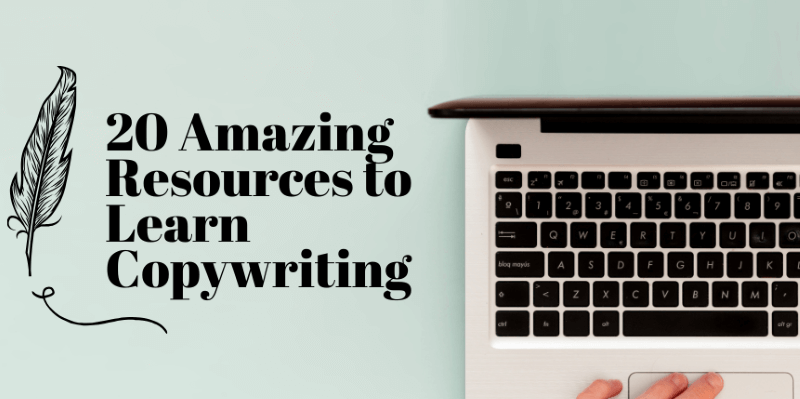 What is copywriting, really? Most often, it is the art of writing copy for marketing or advertising. In other words, it's writing that's designed to sell. That might seem easy, but believe me, it's often not.
If you're considering an engaging and rewarding career in the world of copywriting, this list of 20 top resources will help you master the practice:
If you truly want to be good at copywriting, Copyblogger is definitely the right place to start learning. 115,000 people have already benefited from their free, high-quality resources.
This course will guide you through the most essential elements of copywriting. You'll learn the right mentality for a copywriter, top techniques, proven formulas, and how to get started.
The name of this site tells you everything you need to know. If you're looking for actionable copywriting tips, this should be a top destination.
This awesome eBook will teach you how to craft sentences, paragraphs, and structure content to compel readers into making a purchase.
You'll absolutely love this eBook by copywriting expert Tom Albrighton. Perhaps the most helpful tool it offers is help with overcoming your fear of writing. Once you free yourself from it, copywriting gets much easier.
This October, subject matter expert Belinda Weaver will present her new copywriting course to help you boost the selling power of your words.
Neville Medhora, founder of The Kopywriting Kourse, leads the class on how to become the copywriter worth reading. One of the most important things he says is to think like your customer.
"Think of it as a rocket-assisted launch for your writing career." This phrase from this book's description really explains what it's all about. This resource gives aspiring copywriters the knowledge of battle-hardened professional writers.
Learn how to persuade people to buy from you in 45 seconds or even less. If you use these copywriting techniques you can succeed where others fail.
The purpose of this class is to help you grow as a copywriter. Find two days in your tight schedule to learn new proven techniques and tricks to improve your copywriting.
This is a video about creating effective Adwords advertising. One of the most important things to know about writing good copy of any type is that you need great bait, and need to learn how to attract the right people. In this video you'll learn how to do that.
Here you'll find ridiculously simple tricks from Joana Wiebe on how to create a copy that actually converts. With her guidance you can achieve remarkable results.
Joana Wiebe shares the unbreakable rules of copywriting in this engaging article. If you want to write truly awesome copy, you need to read these do's and don'ts.
In this article you will find 5 ideas that will help you become a master copywriter in less than a year!
Neil Patel's 30,000-word guide on copywriting just had to be part of this list! Neil and Joe Putnam created a guide that will improve your business through the power of words.
This is a free ebook for those who want to get started fast. Reading these 10 lessons will get you the knowledge to get up and running with some basic knowledge of copywriting.
John Carlton shares genuinely good copywriting tips. Most of her best advice can be found in her amazing cheat sheet. Oh, by the way, it's absolutely free.
This is a complex course that will teach you, whether you're a freelance writer or a business owner, to use your words as a tool to make money. In 10 weeks you'll learn specific writing techniques and you'll see results after every class.
This post concentrates on something we all struggle with from time to time, which is finding the right words. With these 300+ truly powerful words to choose from you can turn your copy into a weapon of mass persuasion.
Check out this list of tips that will help you craft fresh and original copy.
And I'm done here. These are the resources I found most useful and effective. Rest assured, there's much more to learn and discover about copywriting. Don't stop at these 20, dig deeper and watch your career succeed!
What are your favorite resources for beginning copywriters? Share your favorites in the comments!