25+ Tools a Freelance Writer Must Have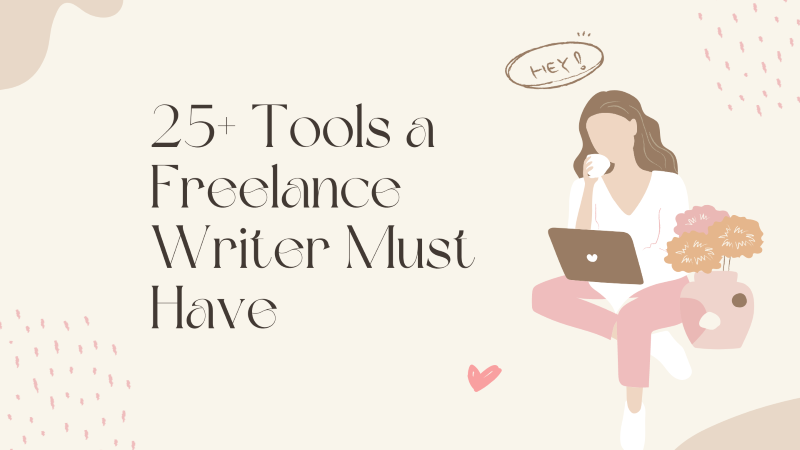 The benefits of being an online freelance writer are undeniable. No 9-5, no daily commute, and no pittance of a salary. As a freelancer, you get to control your professional life, working your own hours from anywhere in the world and determining your income. Not to mention you don't have to answer to a pesky boss about every little thing you do.
Freelancing does come with some drawbacks, though, like job instability, unreliable clients, and plenty of legwork. It can also be hard to distinguish between work time and personal time, which can cut into your earnings. It's not easy, especially in the beginning. But by making sure you have all the right tools, you can increase your chances of success.
Here are 25+ writing tools no freelancing wordsmith should go without…
No serious freelance writer should work without a writing agreement or contract. It not only saves you from being swindled and exploited (endless revisions requests, unpleasant payment disputes, etc.), but also helps you keep to a schedule.
Chances are you already have this installed. If you don't, Microsoft Word is still the best way to get copywriting projects done quickly and efficiently. Of course, if you're not a fan of Word, there are a number of other good, free word processors out there.
An online portfolio is another freelancer must-have. How else will you show potential clients what you've done and what you can do? Writer's Residence allows you to "create a beautiful writing portfolio with ease." Free for 30 days and then $8.99 a month.
To really stand out as a freelance writer, create a professional website. You can put up a resume, portfolio, images, video, and just about anything else that can land you clients. WordPress allows you to build stunning sites fast, and your only cost is hosting.
When freelance writing is your sole source of income, deadlines are serious business, so it's worth learning how to type quickly and professionally. TypingWeb teaches you to do that, and it's absolutely free. Both pros and beginners can benefit from this software.
Online-Stopwatch is yet another blog writing tool that will help you speed things up. After all, faster writing equals higher earnings. But there's more than just a basic stopwatch on this site; there is also a chess timer, split lap timer, cash clock, and much more.
A blinking cursor, a looming deadline – writer's block! Every freelance writer faces it, and even caffeine fails to inspire prose. Luckily, there are tools to help you smash through it, like Write or Die. An interesting program that keeps you focused and writing. $20.
Learning how to write killer headlines in blogging is of paramount importance, but what nobody ever teaches you is how to capitalize your words. Good thing titlecapitalization.com does it for you. Even if you know how, this writing tool still saves you time.
Ever done tHIS in a bunch of sentences? TextFixer repairs it instantly. It can also correct sentences where every letter has been capitalized. Darn caps lock! Simply paste your text into a block, click 2 buttons, and bam, your revised sentences are ready to be copied.
It's easy to be wrong when you think you're right, especially when it comes to grammar. Rather not take any chances – grammatical errors kill freelance writer credibility. Grammarly isn't foolproof, but it can detect over 250 types of mistakes. Free for 7 days.
Plagiarism is a problem online, and clients know it. This is why many of them now make it clear upfront that they want unique and original work. Copyscape helps you do deliver just that, easily. Sign up, buy credits (5c each), and you're set. There's also a free version.
The days of "keyword stuffing" in SEO copywriting might be over (yay), but keywords are still relevant in search, so knowing how to find good ones is necessary. Here are 8 of the best keyword tools around at the moment. Most are free, some are free-ish.
Technically, this one isn't a writing tool, but since many clients request images in their articles, blogs posts, and copy, it helps to know where you can get great ones cheap. Fotolia has every image a freelance writer could need. Buy credits or subscription plans.
Every writer needs a comprehensive dictionary and thesaurus – The Free Dictionary delivers. As the name suggests, you won't pay a cent. Plus, there are other nifty tools on the site, too. You can even play hangman if you have some time to kill. Hey, back to work!
If you've ever had a word on the tip of your tongue during content creation but couldn't remember it, it's too bad you didn't know about Chirag Mehta's tool. Nothing fancy, just type in some letters and it brings up results in the right-hand column.
Who can't do with a few professional pointers, right? Well, this site is chock-full of them. From punctuation to grammar to expressions, Daily Writing Tips covers it all andhosts loads of to-the-point articles that will make you a better freelance writer.
Quoting authors and text is something that article writers do often, so why not let DocHub make it easier. You can link right to the quote in the web page. After you paste some text and a source URL, you receive a link that opens the page and highlights your quote.
To add sticky notes to web pages during article writing research, try Google Chrome and Firefox extensions. The notes are saved automatically and pop up every time you visit pages. There are also lots of other nice features. You can choose from three plans: Lite (free), Pro, and Platinum.
If you're a freelance writer that isn't particularly fond of Word but needs to view, print, or copy Word documents, Microsoft's Word Viewer makes it possible. It's free of charge. Just be sure to check system requirements before clicking the download button.
Need to work on a collaborative content writing project with other writers? Get Etherpad. It lets you work on the same document simultaneously. It's a WYSIWYG program, so there are a number of stylish formatting options. Quick, easy, and free.
Text-to-speech software is great for proofreading. It's also helpful for content writers with disabilities. Many computers come standard with text-to-speech tools, but if yours didn't, ImTranslator is a good alternative. Incredibly easy to use. No costs involved.
A personal journal is an excellent way to quickly record thoughts, ideas, and bits of information, making it useful to the freelance writer. With Penzu, you can sign up for a free or pro account. Your diary is always safe, private, and accessible from anywhere.
The more you use a word, the less effective it becomes. Fortunately, Wordcounter fixes repetitive writing quickly and easily. Just enter your text into the block provided, select your settings, and then watch a list of overused words populate by frequency. It's free.
Clichés are old, tired phrases that make you sound corny and amateurish – and that's just the tip of the iceberg! Not what you want as a professional content writer. Cliché Finder helps you cut out those annoying catchphrases for free, before they lose you clients.
Another writer's block buster. Imagination Prompt is designed to inspire the freelance writer by randomly generating story starters and topic ideas. One button click is all it takes to bring up partial phrases that could be the basis of your next article or blog post.
Want to be even more productive? Here are 30 additional tools that can help. From time management and organizational tools to project management and entrepreneurial programs, you won't struggle to find something useful on this page.
Are there writing tools you absolutely can't live without? What are they? Please share in the comments section below.