30 Killer Resources to Learn Content Marketing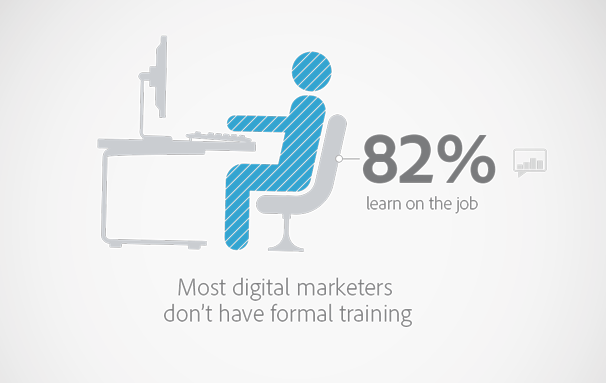 Despite the fact that 86% of brands have adopted content marketing practices, 82% of marketers say they're not receiving training. This fact has created an interesting playing field for content-minded professionals. The truth is the individuals and brands that succeed in the years to come will be those who are aggressive about self-education.
I've curated a list of resources that I can recommend without hesitation to anyone. Many of these eBooks were tools I've used myself for education and improvement. From idea generation to strategy and more, here are the best of the best:
Marcus Sheridan is a sought-after speaker and thought leader, thanks in large part to his straightforward approach. His 230-page, free eBook is among the best.
From Eloqua to Dive Rite, Content Marketing Institute offers four diverse and thorough case studies of how content improved brand's marketing metrics.
Every marketer should understand what a marketing funnel is and how it can help boost sales. In this article from Semrush, Rachel Handley explains each part of the marketing funnel, from top to bottom. Plus, you'll find useful advice on how to make it more effective.
Featuring 29 industry leaders, Top Rank Blog's free eBook isn't afraid to share information you won't find anywhere else.
Jay Baer's free eBook is friendly enough for even metrics-averse marketers to pick up and enjoy, and it's written with his trademark conversational style.
Documentary filmmaker Morgan Spurlock, famous for the film Supersize Me, discusses the ideas of sponsored content and digital influencers in this Ted Talk.
This Eloqua resource is a whitepaper, that's elegantly presented in presentation format. It's positively filled with helpful stats, facts, graphs, and charts.
While every video on Content Marketing Institute's YouTube channel is worth your time, this interview with experts on how their organization approaches content is especially powerful.
Discover the latest and most advanced tactics for tailoring your brand's messaging to fit major social media platforms in this eBook from Content Marketing Institute.
Formatted as mini case studies, you can draw inspiration from Lee Odden's list of powerful content marketing examples.
Seth Godin's Ted Talk was no disappointment! The legendary marketer and philosopher discusses virality and telling compelling stories.
All kinds of content marketers can learn from YouTube's trends manager Kevin Allocca, who discusses the science of viral content in this Ted Talk.
Marketo's manifesto is the perfect fit for experienced content marketers who are hoping to increase employee participation at their organizations.
Discover examples of brands of all sizes that excel at creative content in this free eBook and quality resource from Content Marketing Institute.
An entire Ted Talk about slogans? Yes, and Stefan Sagmeister's speech might help you write the most important piece of content you craft this year.
You'll be lost without a plan. However, HubSpot's free eBook is the perfect guide to planning and organization for beginners.
This is a blog published by Writtent – but it's still absolutely worth your time! It's among the most comprehensive compilations of content marketing case studies to date.
Once you've exhausted the resources on this list and recovered a bit, I highly recommend this compilation, created by Kissmetrics' team.
Are you measuring enough? Or even measuring the right things to begin with? Kapost's free eBook will get you on the right track.
HubSpot's all-in-one eBook "kit" includes some of their most valuable resources, including 100 content marketing ideas, a brainstorming guide, and much more!
Running your first webinar? With this guide from HubSpot, you can ensure you'll be completely prepared.
There are dozens of fresh ideas to boost your strategy in this recent, outstanding blog from consultant Martha Spellman.
Every content marketer needs to be pretty fluent in SEO, which is why this eBook from the leading industry resource is an absolute must-read.
The best ways to do content marketing don't change much every year, but it's smart to check up on them now and then. Using well-known tips and strategies will help you use your time and resources better and improve what you do – it's worth spending 5 minutes reading about it.
Also, in this article, Jesse Sumrak has compiled all of these tips and strategies into one checklist you can download about the best practices in content marketing.
It's always inspiring to learn a little more about successful brand's content strategies, and Later's guide is no exception.
Talk about an ultimate guide! I recommend absorbing this blog from Moz's Marcus Taylor slowly, because it's dense with information.
Think you know everything about the subject? I can almost guarantee you'll find something new in this beautifully-illustrated guide from Neil Patel.
Get an objective measure of your content's performance with this all-new tool from LinkedIn.
Your hiring processes will be made drastically easier with these copy-and-paste descriptions from Workable. It's also fun to see how your skill set stacks up!
How well are you managing your content team? Copyblogger's eBook is radical, rational, and could save you loads of money.
Love this list? Check out another recent post in this series, 29+ Killer Resources to Learn Copywriting.