7 Effective Call-to-Action Examples
If you're trying to get more leads and sales from your website and blog, the first thing to consider is your calls-to-action. Strengthening the call-to-action (CTA) on any given page or post often makes a bigger difference toward your number of leads and customers than tweaking the design or any other changes you could make.

So, what is a CTA, exactly?
Wikipedia defines a call-to-action this way:
A call to action, or CTA, is a banner, button, or some type of graphic or text on a website meant to prompt a user to click it and continue down a conversion funnel. It is an essential part of inbound marketing as well as permission marketing in that it actively strives to convert a user into a lead and later into a customer.
CTAs are critical for achieving any results online, because traffic, subscribers, and followers don't do you any good until they become leads and eventually customers.
That's why calls-to-action can be used in more places than just your website. They should also be employed in your:
social media
email blasts
pay-per-click campaigns
anywhere else you publish or market online
It takes practice to craft the perfect CTA for a given offer and page, but there are a few guidelines to keep in mind that can help you.
First Rule of Effective CTAs: Alignment
First and most importantly is alignment. The call-to-action must match both where it lives and what it leads to. If the page the offer lives on (e.g. a blog post) doesn't match where the call-to-action takes the visitor (e.g. free offer download), that disconnect confuses the visitor, making him or her more likely to leave than become a lead. This is why keyword and customer research is so vital.
HubSpot, the marketing and software company that popularized the concept of inbound marketing, is known for its well-aligned CTAs at the end of nearly every blog post. Here are a few call-to-action examples that demonstrate perfect alignment:
15 Phenomenal TED Talks You Need to Watch Today ~ If a visitor is willing to discover and watch 15 videos from thought leaders in various segments of the marketing industry, it's very likely they'll want even more quotes on marketing from the big names in the field. In addition to being very well aligned, this CTA also uses the power of numbers, name-dropping, and questions to convince prospects to click.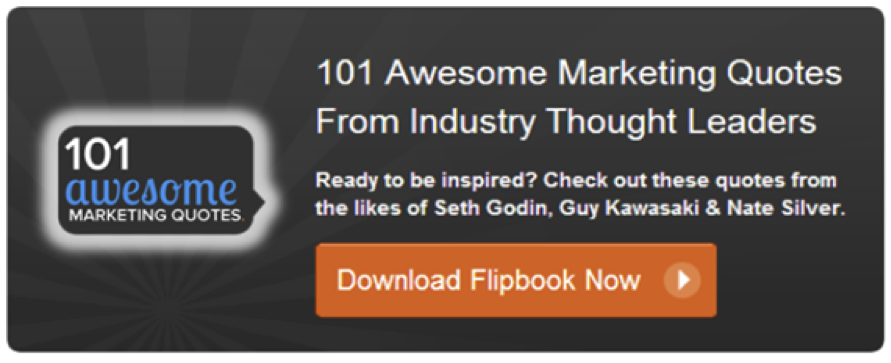 11 Simple (But Critical) Tips for Creating Better Landing Pages ~ Like the call-to-action example above, this CTA perfectly matches the blog post by giving interested readers even more of what they want — tips to help them increase conversions and get more leads.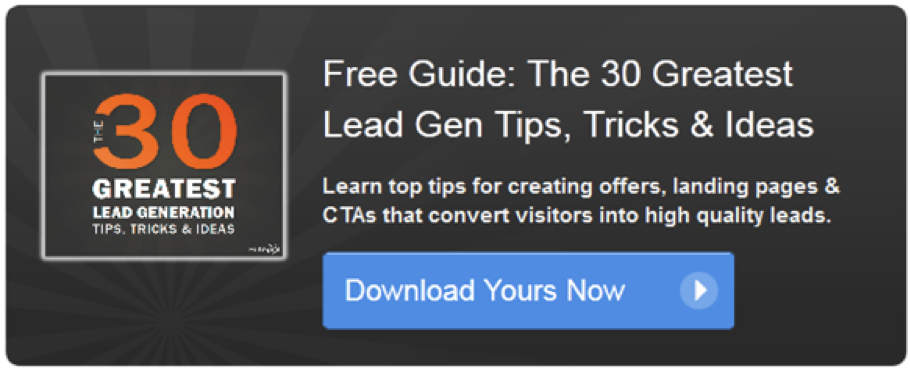 A Step-by-Step Guide to Flawless On-Page SEO [Free Template] ~ The people at HubSpot knew their prospects struggled to keep track of everything they had to do to maintain strong on-page SEO, so they created an Excel template to help them. Then they wrote this special blog post to introduce it and show readers how to maximize it. Your CTAs don't get much more aligned than this.

Second Rule of Effective CTAs: Value
The next important rule of effective CTAs is delivering value. Before visitors will click the call-to-action and become a subscriber or download your ebook, they have to believe they will get some value out of doing so. Consider the top 2 or 3 benefits of your offer. Choose the most important one, and then try to distill it in as few words as possible. That helps you emphasize the value of your offer and strengthen its alignment.
Many social media sites do a great job of showing the value of their service on their sign-up pages. LinkedIn, for example, uses customer testimonials to show the importance of growing your professional network. This call-to-action example also promotes the convenience and speed of creating an account (it's free and takes less than 2 minutes to set up), and hints that doing so can help you do your job better.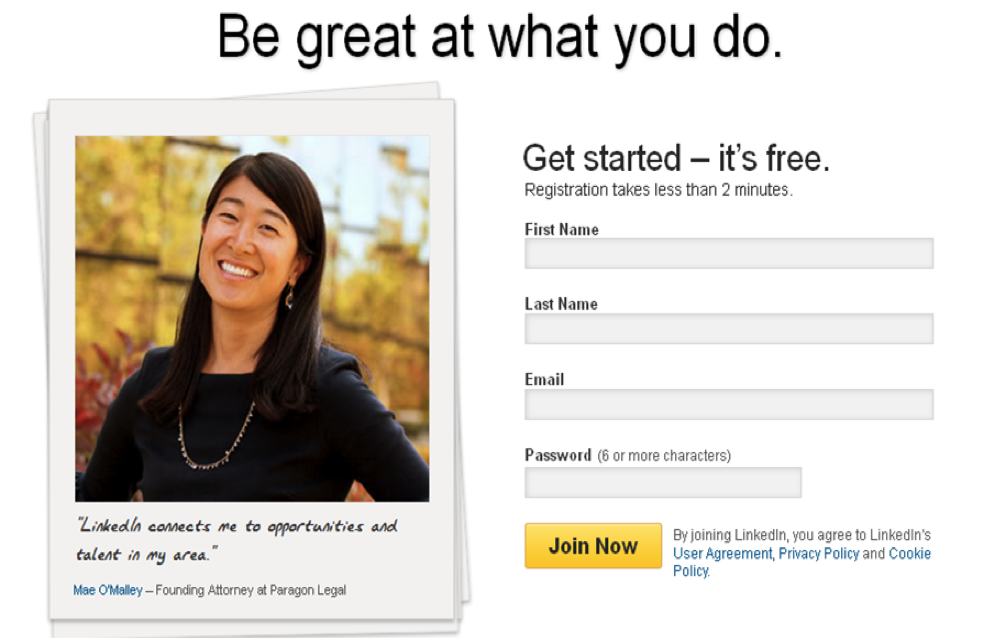 Copyblogger does an excellent job selling the value of the membership portion of their site. Look at everything they offer to prospects:
the chance to excel at content marketing
14 ebooks about various content marketing topics
20-part ecourse to help prospects build a strategy
an index to the best content on the blog
And it's all for free. How much more valuable does it get?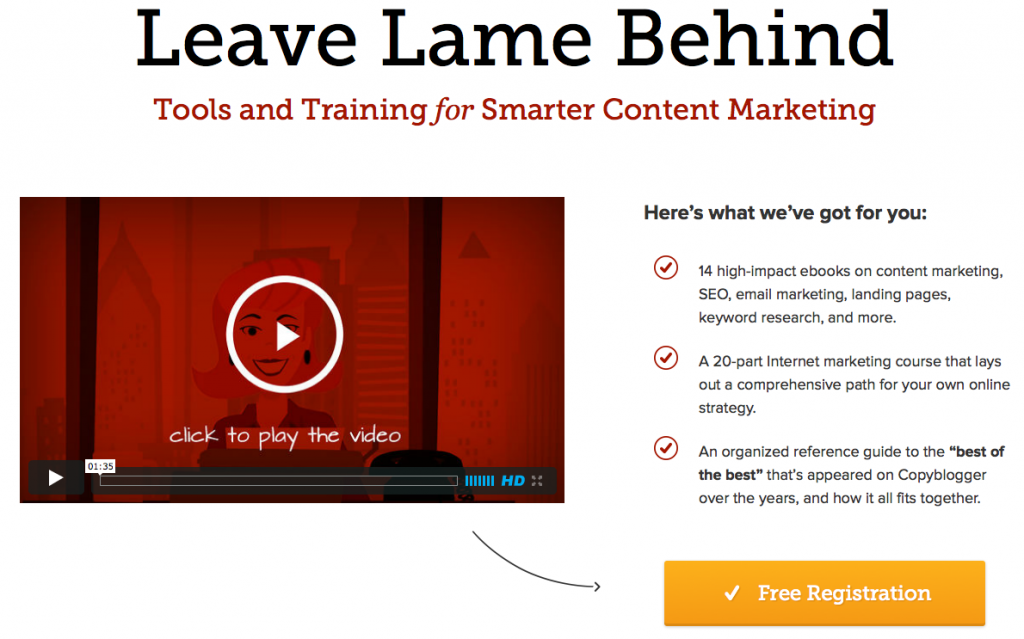 Third Rule of Effective CTAs: Urgency
Another rule of powerful calls-to-action is urgency. When your CTA gives visitors a reason to act immediately, they're more likely to follow through. This is why so many offers have seasonal sales or limited availability.
Some of the best call-to-action examples effectively using urgency are webinar registration pages, such as the one below. Although the advertised webinar is past, it's easy to see how the countdown, prominent calendar date, and use of words like "now" convince a prospect to complete the desired action, especially when combined with alignment, value, and good design.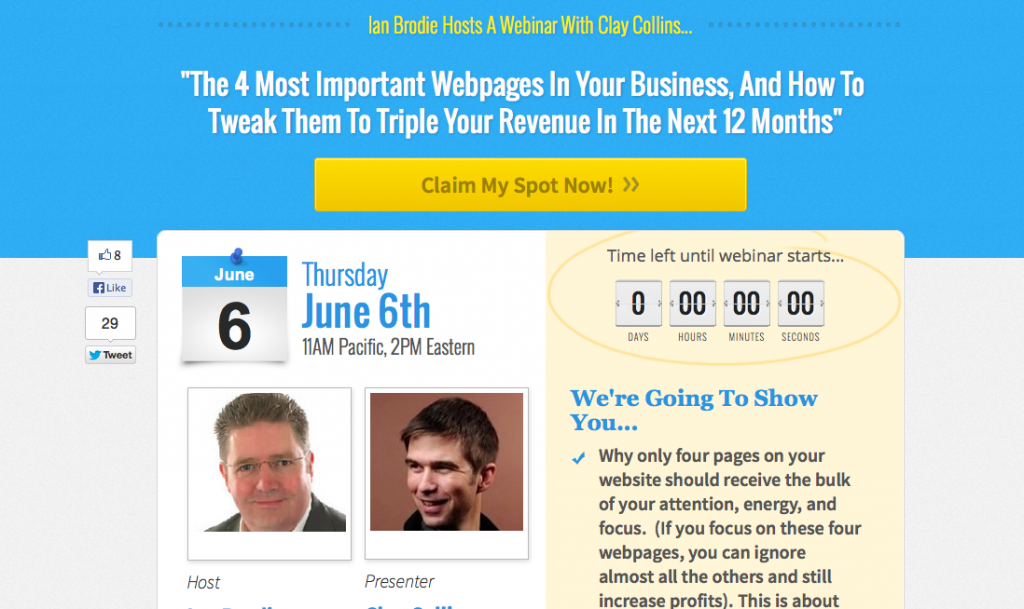 Fourth Rule of Effective CTAs: Clear, Specific Copy
Something else to keep in mind is to make your calls-to-action as clear and specific as possible. Vague, ambivalent language decreases the value of your offer and makes you seem less credible and confident in your own product. On the other hand, clear and specific CTA copy with numbers and strong verbs cements the value of your offer, builds prospects' comfort and confidence in you, and guides them exactly where you want them.
A good example of a clear and specific call-to-action is this email I recently received after downloading the Dropbox app on my phone. Between the subject line, the first sentence, and the CTA button itself, I know exactly:
what to do next (claim additional storage space)
what I get by doing it (48 GB of space)
and why I should do it (it's free).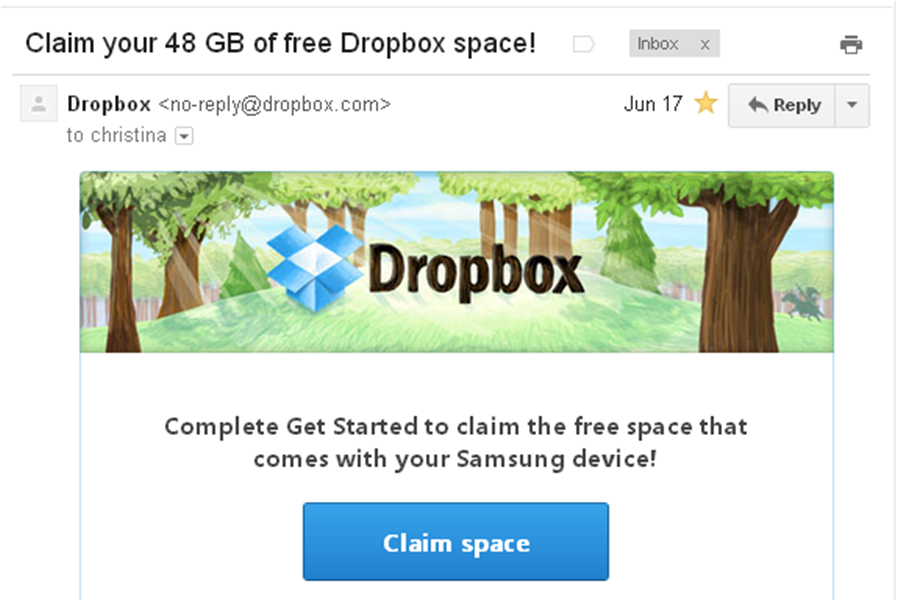 More Call-to-Action Examples and Resources
Using these basic rules will help you craft more powerful calls-to-action that actually convert visitors into leads, but there's plenty more to creating an effective CTA. Here are a few more resources to help you master the nitty-gritty details:
What CTAs have worked well for you? What other resources have helped you? Please share in the comments below!