7 Steps to Creating Titles that Work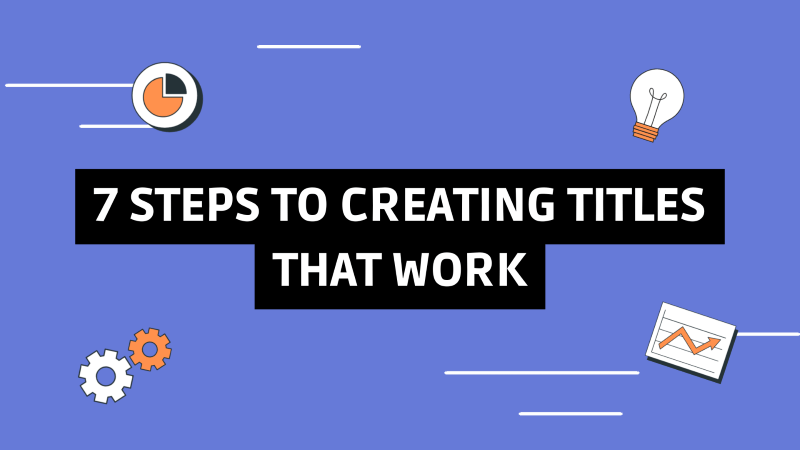 Do you struggle at creating titles and headings that capture attention and compel visitors to keep reading? The kind of powerful titles and subject lines that draw readers in like moths to the flame and keep them coming back for more?
You're not alone. Nearly all writers and marketers struggle with writing great titles at some point in their careers. In fact, legendary copywriter David Ogilvy is said to have spent weeks crafting the perfect headline for one of his most successful and famous ads. So if writing a compelling title is hard for you, don't sweat it. Even the pros take their time.
The next time you need to create a powerful headline that attracts visitors and encourages click-throughs, follow these 7 steps to creating titles that work.
How to Create Compelling Titles and Headlines
Step 1: Know what you're writing about and who you're writing to
The catchiest title in the world won't do you any good if you don't know anything about the topic or your audience. This background information is absolutely critical because it helps you:
write intelligently about the topic or product
deliver what your audience wants
speak directly to the target market
use the right triggers to get them to act
Step 2: Determine the benefits your content offers
Before you sit down to start creating titles, consider what benefits your copy or product offers readers: will they learn something new, become more effective or efficient, or be able to solve a problem?
Every good title offers a benefit to the reader, either directly or indirectly. This is a major reason why how-to posts are so popular, as explained on ProBlogger. Take Ogilvy's famous Rolls-Royce ad headline as an example:
"At 60 miles an hour, the loudest noise in this new Rolls-Royce comes from the electric clock."
The indirect benefit of this headline is a luxurious and peaceful driving experience, even at highway speeds. Who doesn't want that?
Whatever benefit you offer to readers, make sure your content actually delivers on that promise. If your title is "9 Social Media Management Tips" but your content lists 9 features of your social media management software, you will anger and alienate readers and earn a bad reputation.
Step 3: Choose an approach
There are as many ways of approaching a title as there are stars in the sky. Here are some of the more common approaches that can help you attract more readers.
Sensationalism: According to HubSpot, big claims and wacky ideas pique readers' curiosity. Just make sure you back up your claims in the content, and be wary about dropping names.
Controversy: Taking a stand on a big issue or vocalizing your opinion can be very effective at attracting readers and raising click-through rates. Using controversy will put off some people. Avoid race, religion, and extremely sensitive topics so you don't earn a bad rep or offend a lot of people.
Problem Solving: People read your content and buy your products because they want you to solve their problems or reduce their pain points. Make it obvious in your titles that you offer relief from their problems and they'll consume your content in droves.
Formula: Tried-and-true formulas make creating titles easy. Proven to be effective at getting attention and encouraging click-throughs, title formulas are the secret weapon against boring titles that many writers depend on. And they can incorporate many other approaches, as well.
Popular Headline Formulas that Work
Some of the most popular headline formulas include:
For more proven headline formulas, check out these resources:
Creating catchy blog titles that draw in readers and please Google is crucial for success.
However, thinking of good titles by yourself can be hard, especially when you want to get noticed online. This is where free title generators help.
5 free title generator tools for better headlines:
Step 4a: Find the best keyword
For online titles and headlines, search engine optimization is a big deal. Determine the best keyword to use in the title and the content, and then try to use the keyword near the beginning of the title if possible.
Step 4b: Find the best words possible
Titles have a big job to do and not lot of space to do it. So you want to use strong, specific words that say exactly what you mean and capture more attention. Content Marketing Institute explains the importance of keywords and using the right words.
One trick is to use the thesaurus to help you find the best words as well as words that sound good. For example, the title "Vacation Perils & Pitfalls: Banish Bedbugs, Back Pain, Belly Aches and More" uses alliteration with all the P and B sounds to catch your eye and keep you reading.
Step 4c: Incorporate "trigger" words
Some words trigger stronger reactions in the brain than others. Using them in your titles and headlines can dramatically increase your visitors and click-through rates. Some of the most common and powerful trigger words are:
free
secrets
easy
instantly
new
discover
bonus
powerful
guarantee
results
amazing
Step 5: Keep it short and clear
Creating titles that are benefit-driven, optimized, powerful AND short and clear can be a tall order, but short headlines can make a huge difference, especially for online content.
Your customers have shorter attention spans than ever, so shorter titles appeal to their limited time. And shorter titles will appear in their entirety in search results and social media, and searchers are more likely to click through when they can read the whole title. Stick to 8-10 words or about 65 characters or less.
Step 6: Write several titles
Now that you know your background information, benefits, approach, formula, keywords, and power words, you can start creating titles. But don't stop at just 1 or 2. Write as many as possible. Try different formulas and power words. Writing more titles takes time, but it also gets your creative juices flowing and allows you to pick the best title you can come up with.
Step 7: Split-test to find the best-performing titles
Out of the 50 titles you created in the last step, how do you know which one will perform the best? By knowing your audience and product inside-out, you can have a pretty good idea which headlines will be the most effective, but you don't know for sure until you test.
Testing headlines probably isn't worth your time for every blog post, but it can make a dramatic difference for other types of content, such as:
landing pages
ebooks
emails
videos
Do these 7 steps to creating compelling titles work for you? What other tips can you share? We'd love to hear your thoughts in the comments!