How to Write a Newsletter in 4 Simple Steps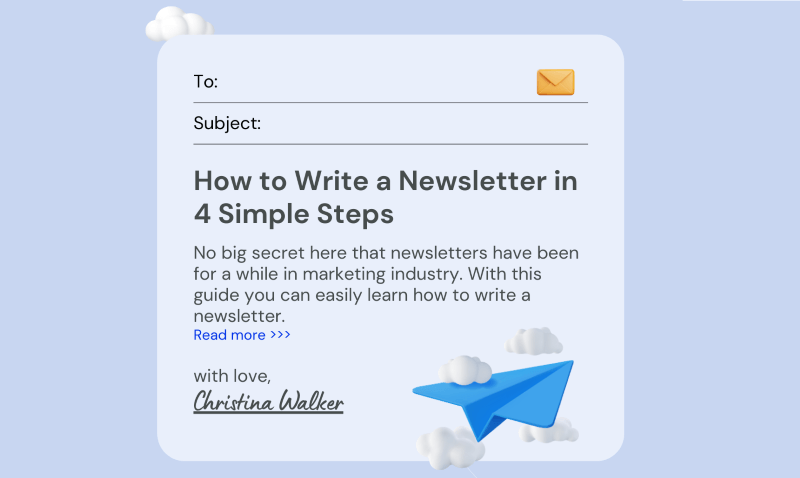 Although content marketing became popular and powerful thanks to SEO and blogging, it applies to many other marketing initiatives you could pursue for your business. Email newsletters are the perfect example.
But like business blogging, newsletters for business sometimes have a bit of a learning curve.
If you've been wondering how to write a newsletter, the good news is it's relatively easy. Once you make all the preliminary decisions about your e-newsletter, then all you have to do is plan the editorial calendar, get everything written, send it out, and track the results.
1. Decide the Specifics
Before you sit down to write or outsource your newsletter, there are a few things you need to know. Making as many of these decisions as possible before sending out your newsletter will help you stay consistent and make your newsletter more effective.
Topic: What subject will your newsletter content focus on? The topic should be a core part of your business to establish your authority and credibility.
Content Types: What types of content will you include in your newsletters? Think like an editor of a newspaper–choose varied types of content to interest and engage subscribers.
Newsletter Name: What will you call your newsletter? Every book, newspaper, and magazine has a name. Your newsletter needs one too. The name should indicate the topic you focus on or the industry you serve.
Goals: What do you hope to achieve by sending an email newsletter to your subscribers? Do you want to
send traffic to your site?
create instant buzz for a new product/service?
increase engagement?
generate sales "on demand"?
Knowing your goals beforehand will help you answer other questions (like what content types to use and which metrics to track) and create a more effective newsletter.
Methods: How will you implement your newsletter? There's no right or wrong way to do it, and the best way for your business depends on your goals. The 3 most common ways of implementing your newsletter are:
creating unique content just for subscribers (does not appear on the website at all)
sending subscribers an introductory portion of the newsletter to get them interested and direct them to the full articles on your website
sending subscribers a unique email (often with a related story) to generate interest and send them to the full articles on your website
Depending on which method you prefer and your goals, another option is to keep archives of your newsletter in a members-only section of your website. Or you could print your newsletter, which comes with its own set unique set of considerations.
Design: What do you want your email newsletter to look like? How much are you willing to pay for a newsletter design? Will your newsletters include your logo and/or other images, or specific colors?
Timing: When will you send your newsletter, and how often will you send it? Most experts agree that morning is the best time of day, since most people check their email at least once every morning.
This infographic from GetResponse shows a lot of data based on their research about the best times to send. They recommend sending between 8 and 10 am and between 3 and 4 pm.
Metrics: Finally, which metrics will you track? Some metrics are the same for all email marketing, such as bounces and open rates, but you may want to keep an eye on other metrics based on the goals of your newsletter campaign.
Making all these decisions is the biggest step in how to write a newsletter. Once you've made all the important choices, everything else is a snap.
2. Plan the Editorial Calendar
This step is a breeze because you've already determined when and how often to send your business newsletter. Now all you have to do is plan things out a few months in advance so you have time to research, delegate, design, and create the content for your email newsletter.
Editorial calendars provide several major benefits.
First, you'll know what needs to be done when and by whom, so you don't have to worry about keeping up.
Integrating your newsletter with your other online content marketing initiatives (including email campaigns, blog posts, ebooks, social media, and more) with the same editorial calendar also helps you:
see where you can leverage other content
avoid overextending your team
create a more cohesive and consistent customer experience and brand image
3. Write the Newsletter
Making the preliminary decisions may be the most important aspect of starting a newsletter, but the hardest part of how to write a newsletter is usually creating the content.
That's one reason it's important to plan an editorial calendar–so you can easily see other content you can repurpose for your newsletter, or that could lay the foundation for future newsletter content.
Writing the newsletter content is also the step that is most often delegated or outsourced. As this article from Newfangled illustrates, it doesn't matter so much who writes the newsletter content as having everyone involved understand the focus, goals, and style that are important to the success of the campaign.
These tips can help you get started if you're creating a newsletter for the first time.
Templates can also be helpful. Most email management systems include design templates to get you started, or you can download a myriad of free templates from Microsoft Office.
4. Send and Track
This last step is the easiest. Once you've written the latest installment of your business newsletter, simply upload it to your email management system (such as Aweber or MailChimp), hit Send, and watch the results.
Wait a week, then compile and analyze all the data about the most recent newsletter. Keep an eye on the important email metrics–opens, bounces, unsubscribes–as well as any metrics pertaining to your goals.
For example, if the latest newsletter was meant to boost engagement, you'll also want to track:
how much traffic your site got since sending the newsletter
the number of new and returning visitors
average time on site
the frequency and recency of visitors
overall engagement of visitors
social mentions and interactions
How Do You Write a Newsletter? If you have tips and experience to share, we'd love to hear from you in the comments!