Expert Views on Top 5 Marketing Skills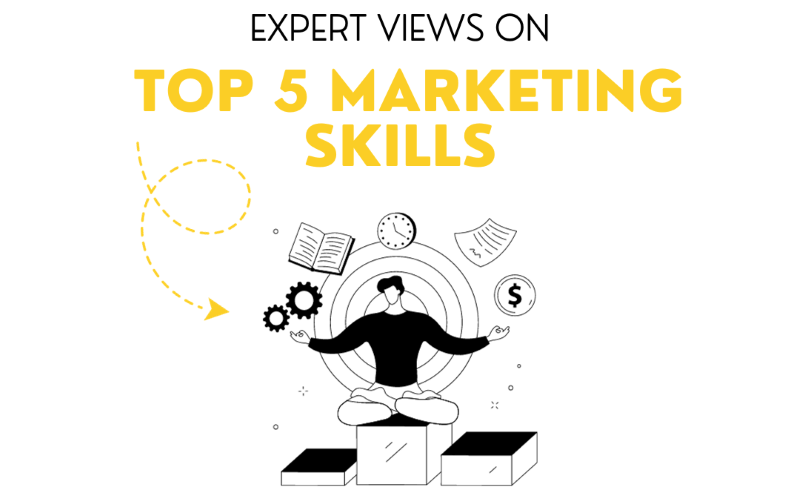 In today's business climate, successful marketing has become, quite obviously, the star of the show. It doesn't matter if you have the world's best product, unless it is marketed well, its target base customers will not find it.
Marketing skills, therefore, have moved ever-closer to center stage in business.
It is the marketing expert who handles the ubiquitous, demanding problems of:
Dealing with a constantly changing marketing environment, with new trends cropping up, gradually or suddenly;
Understanding the whims of the all-powerful, make-or-break search engines;
Keeping up with new technology, such as mobile advertising;
Maintaining a level of excellence in verbal and written communication.
This is a bare-bones outline of the tasks a marketing expert contends with constantly. Since the competition is fiercer than it's ever been, thanks to the multitude of doors opened by technology, there is simply no room for error, no time to waste in unproductive fluff.
The would-be marketing expert must master a multitude of marketing skills to be successful in this dynamic venue. We surveyed several experts in the field of marketing in order to present their opinions on the five most important skills necessary for success as a marketer.
Below, you'll find their valuable answers. Hope they will be extremely helpful!
Mitch Joel, the President of Twist Image, marketer, speaker, blogger and author.
Listen to what the brand needs.
Have a great marketing brief and excellent experience.
Work against the clock, because having a deadline will get the job done.
Be open.
Know what outcomes you need before doing anything else.
Know your audience.
Be a good listener.
Be open to new ideas.
Be accurate but nimble.
Know what the competition is doing.
Pam Didner, a global integrated marketing manager of Intel, blogger.
Passion: Love marketing. Love telling a story.
Curiosity: Social media, digital and mobile marketing have changed the marketing landscape. The ability to learn and stay with the latest trends and technology is essential.
Communication: Articulate your point of view well via speaking and writing.
Analytical: Understand how to use data intelligently to influence decisions and refine strategies.
Experimentation: Try something new. Fail. Try again.
Empathy and understanding.
Communication, especially written, but speaking too.
Networking, relationship and people skills.
Willingness and ability to fail repeatedly.
Stamina and staying power.
Adaptability is more important now than ever. Not only because of the changing marketing landscape but also the changing demands of the client/brand.
Patience is key for anything in business, but especially in this ADD-fueled business world. You can't build a huge email list in a day, you can't make things go viral, and five tweets do not build you an empire.
Focus is a rare and much-needed trait, since it seems a new "world-changing" tool gets launched daily that you have to be in on, or so says the industry. The ability to focus on your core tools and plan is key. No one cares if you're on Vine, if you're not answering their inquiries on your Facebook wall.
Creativity is a lost skill. Just Google "Harlem Shake" or "Gangham Style" videos to see how many actual businesses did something to try and capitalize on something someone else thought of. Creating something truly unique and word-of-mouth worthy takes a lot of skill.
And finally, curiosity. If we don't remain curious, we lose our urge to learn and improve. Always ask "how?" Always ask "Why?"
Today it is important to have some strong analytical skills, specifically some competence in statistics. More and more, marketing is about math!
I think the thing that makes me successful is having a sense of where things are going. I can look at trends and determine where we need to be. Can you learn to do that? I think it comes with experience.
Good marketers cannot be complacent. You can't be satisfied with past accomplishments. You need to be restless.
Marketers need to be educated in the fundamentals of marketing theory, economics and consumer behavior. The platforms may change but these ideas are still at the foundation.
Successful marketers will have a results-orientation. Speak the language of the business.
To be a great marketer you need to be:
Curious.
Open to new experiences.
Analytical.
Empathetic.
Risk-taking.
Mark Bonchek, the founder of Shift Thinking®, scholar, entrepreneur, executive, writer, speaker.
Having a point of view.
Wanting to help people learn and grow.
Knowing how to tell a good story.
Being a good listener.
Making things simple.
Mike Agron, an entrepreneur, author of WebinarReady™, co-founder of WebAttract, LLC.
Knowing your audience and what's really important to them.
Provide them with something that they don't know, or validate current thinking that ultimately helps them to move their thinking forward and or to solve a current challenge.
Engaging and connecting with your audience with useful information (e.g., real life examples) rather than a sales pitch.
Being passionate about your topic.
Understanding that your audience will move on their schedule, not yours, as it takes them time to build up trust in what you are offering.
The Razor's Edge
Every word is a world in today's marketing industry. Successful marketing experts develop their skills to a razor's edge. They do this because they have to, simply to stay in the race.
If you have a success story about your marketing skills, or would like to participate in this important discussion, please leave your comment below.
Tell us which skills you consider most important for success in marketing!