1000+ Power Words That Sell to Maximize Your Conversions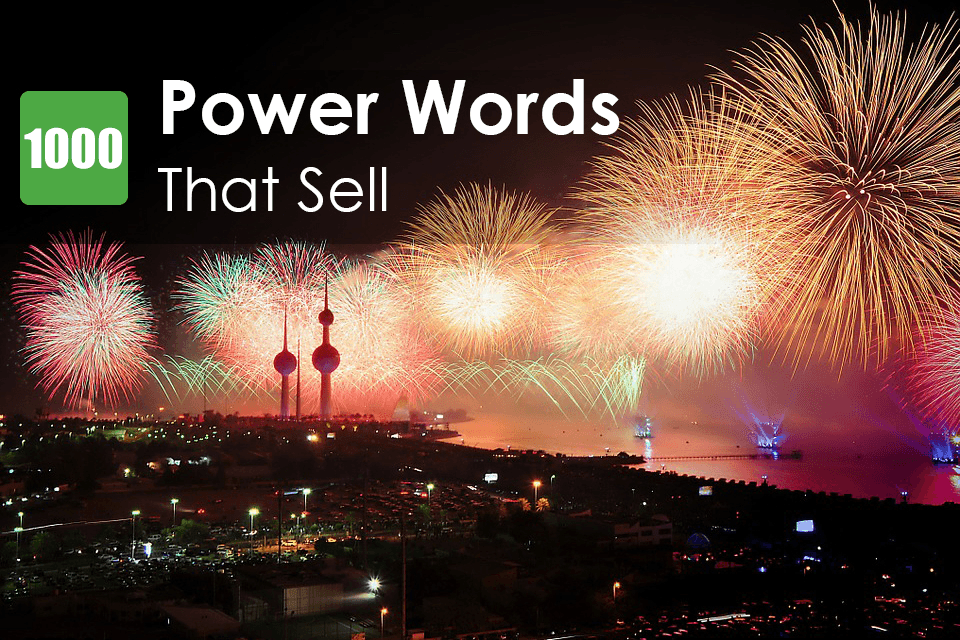 Are you struggling to find the right words to sell your product or idea?
Do you want to find better words that sell to maximise your conversions?
All writers know how important word choice is, and the power that a single word can have on readers. Choosing the right word can be the difference between them taking action and remaining passive readers. It can be the difference between writing content that's memorable and content that's easily forgotten.
Using power words is a simple way to increase your conversions, as they are strong, persuasive words that writers use to trigger specific responses in readers to persuade and influence them; however, trying to come up with the right ones can be difficult and time-consuming, as there is no one-size-fits-all, perfect power word.
That's why we've done the hard work for you. Check out our list of 1000+ power words that sell to maximise your conversions. We've divided them into different categories to make it easier for you to find what you need, so there may be some overlap.
Just remember that using every power word you can think of regardless of the context and expecting results can be as ineffective as not using any. Think about what action you want readers to take (e.g., to buy a product, subscribe, comment, sign a petition, etc.), and what emotions will help persuade them to take that action, then find the best words to trigger that emotion.
Here Is How to Use The Power Words:
Where Should You Use Power Words?
Not sure where to start using them?
Of course you can use power words anywhere on your website, but here are 4 places where they will be particularly effective, along with examples from our own blog posts:
1. Headlines.
2. Subheadings.

3. Meta descriptions.

4. Call to actions.

With all of these, you need to use words that will grab the reader's attention and convince them to take a specific action. Using power words are a great way to do this.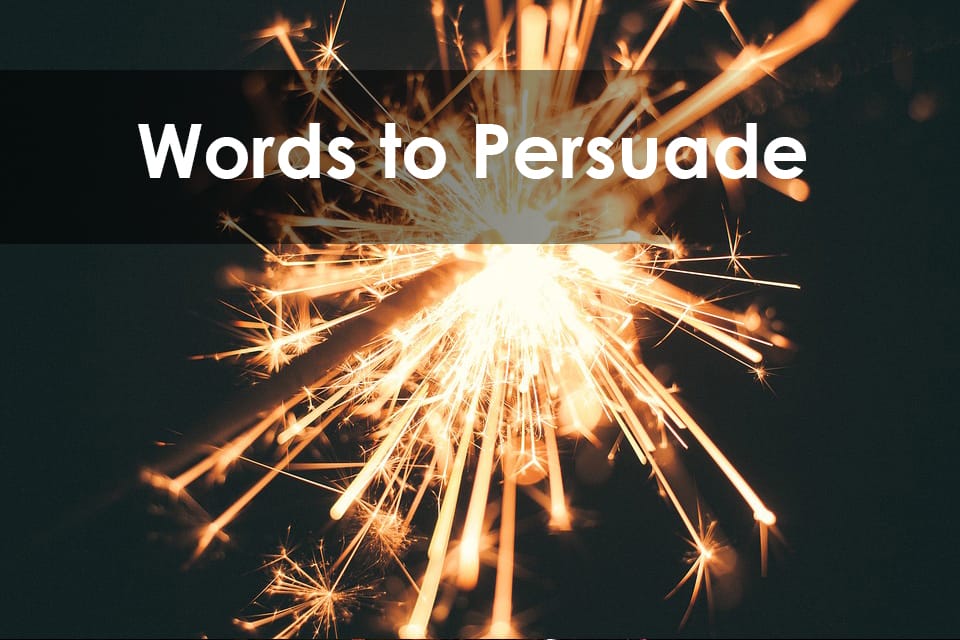 Most Persuasive Words in the English Language
You might already think these words are persuasive, but did you know that many consider them the most persuasive words in the English Language? Read this interesting post on Copyblogger for research behind why these five simple words are so persuasive.
Because
Free
Instantly
New
You
Most Persuasive words in Advertising
In 1963, David Ogilvy published a list of what he believed to be the 20 most persuasive words in advertising. Even though this list is over 50 years old, they are still powerful words that we should keep in mind.
Amazing
Announcing
Bargain
Challenge
Compare
Easy
Hurry
Improvement
Introducing
Magic
Miracle
Now
Offer
Quick
Remarkable
Revolutionary
Sensational
Startling
Suddenly
Wanted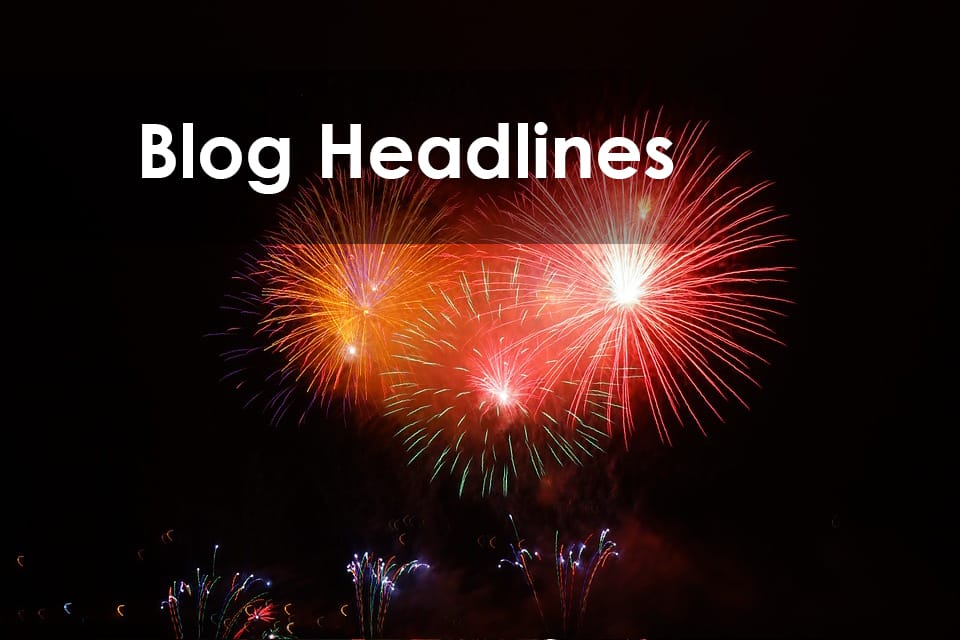 Words for Popular Blog Post Headlines
According to Ryan Robinson Blog, the most popular blog post headlines included these words.
Big/Huge
Critical
Hacks (or a variation of this word)
History
Science
Smart
Surprising
And here are some more words that we recommend using in headlines.
Amazing
Bargain
Bizarre
Breakthrough
Cheat sheet
Checklist
Cringeworthy
Data-backed/Data-driven
Easy
Exclusive
Expert
Facts
Formula
Free
Guide
How to
Infographic
Instantly
Little-known
Mistakes
Must
Myths
New
Now
People
Proven
Science-backed
Secret
Shocking
Simple
Steps/Step-by-step
Strategies
Template
Tested/Tried-and-tested
This
Tips
Trends
Tricks
Ultimate
Video
What/Who/Which/When/Where/Why/How
Weird
You/Your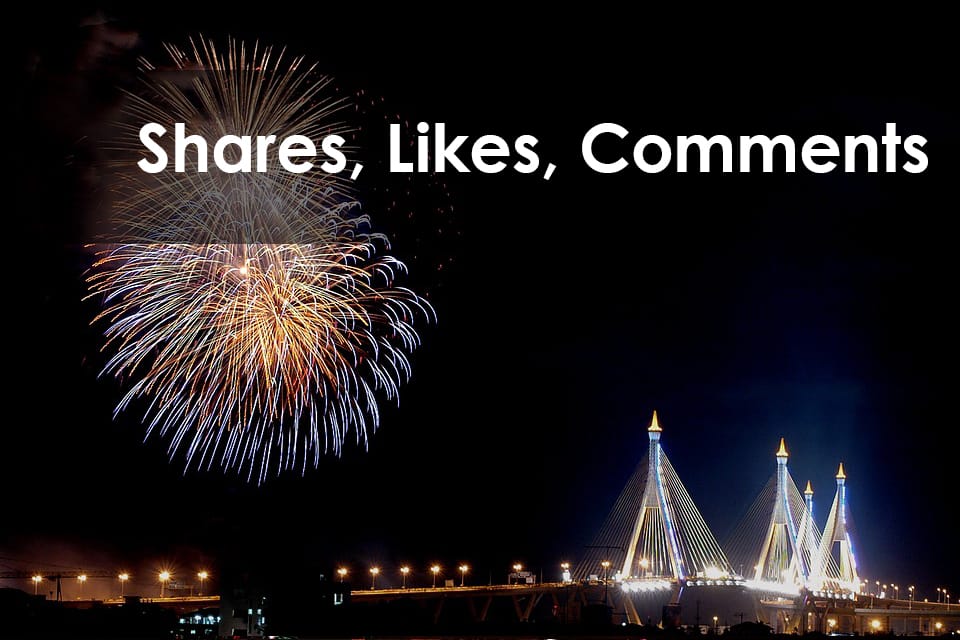 Words to Increase Facebook Shares, Likes, and Comments
According to Neil Patel's infographic The Surprising Words That Get Content Shared on Social Media, these words are the best ones to share on Facebook to get more shares, likes, and comments.
Amuses
Comment
Deals
Discounts
Inspires
Post
Should
Submit
Take
Tell use
Warns
When
Where
Would
Words to Increase Retweets
According to Neil Patel's infographic, you should also use these words if you want to get more retweets.
10
Blog
Blog post
Check out
Follow
Free
Great
Help
How to
Media
New blog post
Please
Please retweet
Post
Retweet
Social
Social media
Top
Twitter
You
Better Adjectives to Use Instead of "Good"
Sometimes you need a better, more descriptive adjective to grab the reader's attention than just "good" or "great". Here are some alternatives that you could use.
Amazing
Amusing
Astounding
Awe-Inspiring
Awesome
Beautiful
Best
Breathtaking
Brilliant
Clever
Compelling
Creative
Dazzling
Delightful
Elegant
Engaging
Enjoyable
Entertaining
Epic
Essential
Excellent
Exceptional
Exciting
Exhilarating
Extraordinary
Eye-catching
Eye-opening
Fantastic
Fresh
Fun
Gorgeous
Grand
Hilarious
Imaginative
Important
Impressive
Incredible
Influential
Innovative
Inspirational
Inspiring
Interesting
Inventive
Irresistible
Key
Life-changing
Lovely
Magical
Magnificent
Marvellous
Masterful
Memorable
Mind-blowing
Mind-boggling
Miraculous
Momentous
Notable
Noteworthy
Original
Outstanding
Perfect
Phenomenal
Powerful
Practical
Professional
Remarkable
Sensational
Significant
Skilful
Spectacular
Spellbinding
Striking
Stunning
Surefire
Terrific
Unforgettable
Unmatched
Unrivalled
Valuable
Wonderful
Wondrous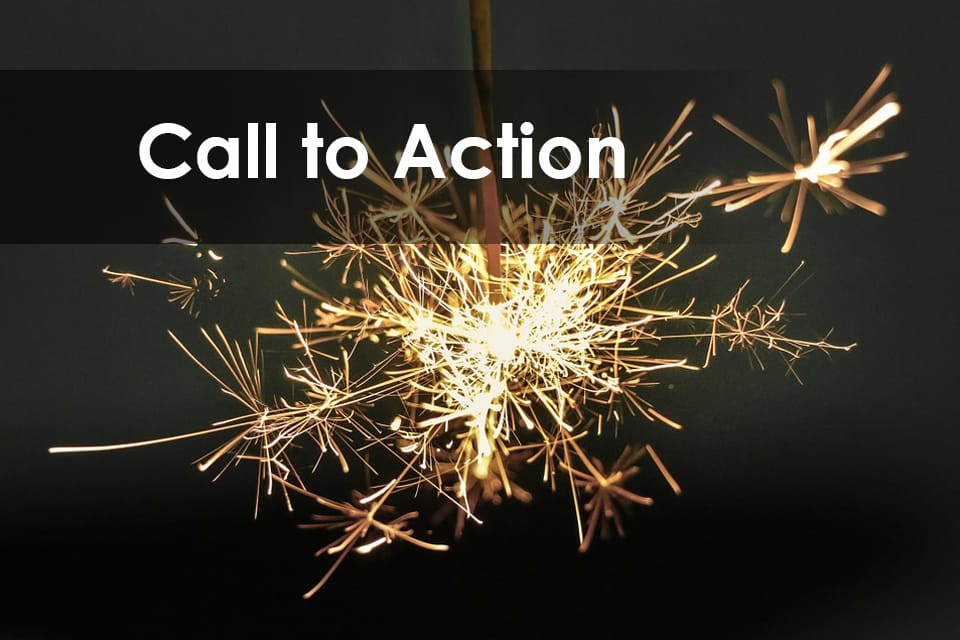 Words to Call Readers to Action
A great—and obvious—place to use these strong verbs is the start of call to actions. Combining these with words that trigger a feeling of urgency can be particularly effective in persuading readers to take action.
Add
Browse
Buy
Call
Claim
Check
Click
Comment
Contact
Create
Discover
Download
Explore
Find
Follow
Get
Join
Launch
Learn
Need
Promote
Register
Save
Search
Send
Share
Sign up
Start
Submit
Subscribe
Trial
Try
Update
Vote
Want
Words to Provoke Anger
As long as their anger isn't directed at you, using words to provoke anger can be a great way to convince readers to take a specific action. If you intend to make your readers angry about a problem before offering your solution, these are the kinds of words you should consider using.
Abhorrent
Absurd
Abuse
Annoy
Appalling
Arrogant
Atrocious
Awful
Bully
Condescending
Corrupt
Coward
Cruel
Crush
Deceitful
Despicable
Destroy
Detest
Devastating
Discriminatory
Disgraceful
Disgusting
Dishonest
Dishonorable
Dreadful
Exasperated
Exploit
Evil
Fed up
Force-fed
Foul
Frustrating
Had enough
Hate
Heartbreaking
Heinous
Hindrance
Immoral
Inexcusable
Infuriating
Irritating
Loathe
Lies
Manipulate
Never again
Obnoxious
Odious
Offensive
Patronizing
Pointless
Pompous
Powerless
Pretentious
Provoke
Rant
Repulsive
Revolting
Shameful
Senseless
Sick and tired
Smug
Snob
Stink
Suffer
Superior
Struggle
Terrible
Underhanded
Unethical
Unfair
Unforgivable
Unjust
Untrustworthy
Unworthy
Waste
Wrong
Words to Encourage Community
If selling your product or idea requires you to create a sense of community and make readers feel that they would be joining like-minded people for a worthy reason, use these words that appeal to their desire to belong and be a part of something.
Be a part of
Connect
Help us
Join
Let's
Not alone
Support
Team
Together
We all know
We can
You're in the right place
Words to Spark Curiosity
Make the most of what few words you have in your headlines by using these words to spark their curiosity. Intrigue them. Feed that urge that makes them feel that they must click on your blog post to satisfy their curiosity.
Answers
Astonishing
Banned
Behind the scenes
Bizarre
Censored
Click to find out
Confessions
Confidential
Controversial
Cringeworthy
Did you know
Disclose
Discovery
Eccentric
Elusive
Extraordinary
Eye-opening
Fascinating
Find out more
Find out why
Forbidden
Hidden
Hilarious
Imagine
Incredible
Insane
Interesting
Intriguing
Life-changing
Little-known
Magic
Must-know
Must-use
Mysterious
Mystifying
Myth
New discovery
No one knows
No one tells you
No one talks about
Obscure
Odd
Questions
Quirky
Peculiar
Puzzling
Rare
Remarkable
Revealed
Revolutionary
Ridiculous
Riveting
Secret
Shocking
Sneak peek
Spoiler
Strange
Surprising
Tell all of your friends
Top secret
Truth
Unbelievable
Uncommon
Unconventional
Uncover
Unknown
Unexpected
Unique
Unusual
Weird
Wonder
You don't know
You should already know
You will never guess
You won't believe
Words to Offer Exclusivity
Who doesn't want to be invited into a secret club? Use these words to entice your readers with the promise of exclusivity.
Be the first
Before everyone else
Behind the scenes
Confidential
Elite
Exclusive
Find out first
Hidden
Insider
Invitation
Just for you
Limited
Limited edition
Login required
Members only
Membership
Never-before-seen
Newly released
Only available for
Premium
Priceless
Private
Rare
Secret
Sneak peek
Special
Unique
Unseen
Words to Target Fear
Fear is such a strong emotion, and words such as these can be effective in grabbing the reader's attention and persuading them to take action to avoid a fearful situation.
Afraid
Agony
Alarming
Beware
Caution
Catastrophe
Clueless
Collapse
Concern
Crisis
Damage
Danger
Dark
Daunting
Deadly
Death
Destroy
Destruction
Devastating
Difficult
Dire
Disadvantage
Disappoint
Disaster
Doubt
Drawback
Dread
Drowning
Dumb
Embarrassing
Error
Fail
Fatal
Fault
Fear
Flaw
Foolish
Forgettable
Formidable
Fraud
Frightening
Ghastly
Grievous
Grim
Harmful
Harsh
Hazard
Horrendous
Horrid
Horrifying
Humiliation
Idiotic
Intimidate
Jeopardy
Lame
Limitation
Mediocre
Misfortune
Mishap
Mistake
Monstrous
Nightmare
Ominous
Ordeal
Painful
Panic
Peril
Pitfall
Poison
Problem
Rash
Reckless
Reject
Risky
Ruin
Scam
Setback
Severe
Shatter
Shock
Stumbling block
Stupid
Suck
Suffering
Threat
Threatening
Toxic
Trapped
Trouble
Unexpected
Unhealthy
Unknowingly
Unlucky
Useless
Warning
Worry
Words to Target Greed
Appeal to that desire to want more than you need, and to want more than what others have. Combine these words with words that trigger a feeling of urgency to persuade people to buy your products. They can be particularly effective on those who don't intend to buy anything or take action but can't resist these words.
Bargain
Best
Bonus
Cheap
Clearance
Discount
Double
Exclusive offer
Extra
Extravagant
First
Final
Fortune
Free
Giveaway
Half price
Hurry
Jackpot
Jealous
Last chance
Latest
Limited
Lowest
Luxurious
Marked down
Massive
More
Need
Never again
One-time-only
Only [insert number] available
Only [insert number] left
Only today
Prize
Profit
Profitable
Reduced
Reward
Sale
Sale ends soon
Special offer
Treasure
Triple
Unlimited
While they last
Words to Appeal to Logic
These words have a similar effect as the words that encourage trust. They can reassure the reader that you're being logical, reasonable, and objective.
According to
Accordingly
Analytical
Analyze
As a result
Authority
Based on
Because
Conclusive
Consequently
Data
Data-backed
Due to
Evidence
Evident
Example
For this reason
Hence
In comparison
In contrast
In order to
Justify
Logical
Makes sense
Methodical
Organise
Plan
Reasons
Report
Research
Results show
Science
Since
Studies show
Study
Supported by
Therefore
This leads to
This conveys
This suggests
Thus
Validate
Well-thought-out
Why
Words to Make Readers Lust After Something
Make your product or idea even more desirable with these power words.
Alluring
Attractive
Breathless
Breathtaking
Captivating
Crave
Decadent
Delirious
Desire
Enchanting
Entrancing
Exotic
Fantasy
Forbidden
Irresistible
Hunger
Hypnotic
Irresistible
Longing
Lovely
Mesmerizing
Passionate
Provocative
Ravishing
Riveting
Seductive
Sexy
Sinful
Striking
Tantalizing
Tempting
Words to Make It Personal
Use these words to make your content seem more personal, which helps to establish a connection with the reader by writing as if you are talking directly to the them.
Words to Imply Simplicity
People don't want to put more effort into achieving their goals than they have to, and they don't want to read content that's overly long, complicated, and difficult to read.
So, use these words to persuade them into thinking that your content is easy to read and won't take much time or effort.
Actionable
All it takes
All you need
Basic
Before you know it
Beginner
Blueprint
Cheat sheet
Clear
Direct
Easy
Easy-as-pie
Easy-to-read
Effective
Efficient
Effortless
Everything included
Example
Fill in the blanks
Foolproof
Formula
Fundamentals
Guide
How-to
In less than
In no time
Instant
Instructions
Just
List
Manageable
Maximize
Newbie
Noob-friendly
No problem
Nothing to it
Overview
Painless
Piece of cake
Plain
Practical
Quick
Recipe
Rookie
Simple
Start
Step-by-step
Steps
Straightforward
Techniques
Template
Tips
Tools
Tricks
Words to Imply Specificity
Readers like to know specifics, and these words will trigger that desire to know the exact "what", "why", and "how" of what you're selling. For instance, if you want to convert your readers into subscribers, convince them that your writing tips will explain exactly how to improve their writing in detailed steps with specific examples.
Because
Certain
Complete
Comprehensive
Exactly
Example
Exemplar
Explain
Define
Definite
Definitive
Demonstrate
Detailed
How
Identify
Illustrate
In-depth
Precise
Specific
This
Why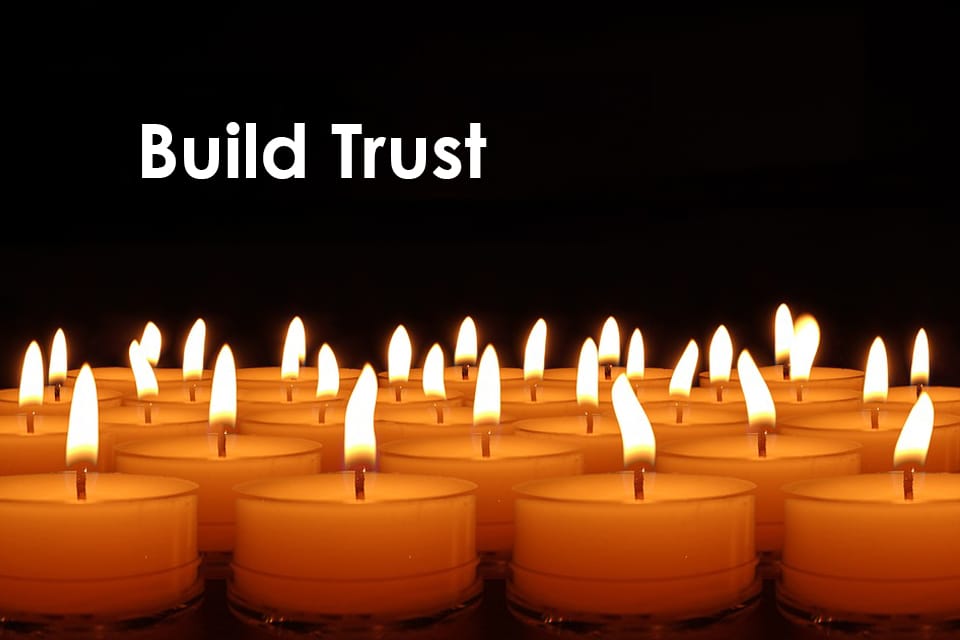 Words to Build Trust
Building trust between you and your readers is incredibly important, whether it's trust that you only use reliable sources in your research, trust that you won't send them spam if they subscribe, or trust that you'll be honest about your products. Telling people to trust you will probably make them think the opposite, but using these words can help encourage them to trust you.
According to
Accurate
Anonymous
Assurance
Authentic
Authoritative
Backed
Cancel anytime
Case study
Certified
Consistent
Endorsed
Expert
Free trial
Fully refundable
Guaranteed
Here to help
Honest
Justified
Low risk
Money back
No obligation
No risk
No strings attached
Official
Privacy
Professional
Promise
Proof
Protected
Proven
Refund
Reliable
Report
Research
Results
Risk-free
Safe
Secure
Studies
Tested
Testimonial
Try first
Unsubscribe
Updated
Verified
Warranty
Well-respected
Words to Imply Urgency
Use these words to persuade readers to take action immediately by implying scarcity, limited time, and loss aversion. For instance, instead of making them want something, make them not want to lose something.
Act now
Before they disappear
Before you forget
Clearance
Deadline
Don't miss out
Ends soon
Expires
Fast
Final
Hurry
Immediately
Instantly
Last chance
Limited
Never again
Now
Only available until
One-time-only
Only today
Quick
Right now
Running out
Today
While they last
Words to Appeal to Vanity
Use these words to appeal to people's desire for others to admire their appearance and achievements. Think about what they want to be known for and what words you want them to think of when they think of you. Show them that reading your blog post, buying your product, or subscribing to your blog will help them become more successful.
Ahead of your competitors
Always a step ahead
Ambitious
Award
Best
Bold
Boost
Brave
Clever
Confident
Conquer
Courageous
Daring
Devoted
Elegant
Expert
Fearless
Genius
Greatest
Hero
Heroic
Influential
Innovative
Inventive
Millions
Powerful
Prize
Smart
Succeed
Successful
Triumph
Valiant
Victory
Good luck with your word search!
Have any powerful words to add? Let us know in the comments below!