SEO is Dead. Content Marketing = Guaranteed SEO
SEO as we know it is actually gone forever. The most recent Hummingbird update to Google's search algorithm was a final nail in the coffin of an industry that had been in decline since the major Panda update in 2011 that affected as many as 30% of all search results. Are you dubious, or worried that our position is extreme?

Consider the following factors that were recently highlighted in the Search Engine Journal:
Keywords are Now "Not Provided"
Prior to September 23rd, marketers could draw rich insights from data on the keywords that were driving visitors to their sites from Google. The information was abruptly protected several weeks ago.
Google PageRank May Be Dying
Once the de facto standard for measuring a website's authority, Google PageRank figures haven't been updated in 2013, and Matt Cutts himself has stated they won't be updated again this year.
Authorship and AuthorRank
Google authorship has been around for nearly 2 years. While there's been no official word that Google AuthorRank will be rolled out, it's clear that Google is perfectly prepared to start using an individual's expertise to determine content rankings.
In-Depth Results
August 6, Google introduced in-depth search results, a way for the search engine to highlight quality content around the broader context of user's searches: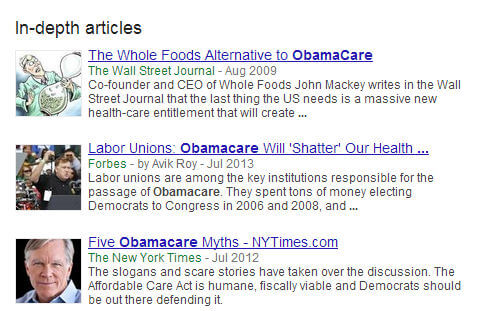 According to Forbes, these results appear for about 10% of searches, and are typically evergreen content from major publications. There's currently no way to achieve guaranteed SEO results by achieving a coveted spot among these in-depth articles.
Social Signals is On the Rise
A recent Neal Schaffer study brought more weight to what we've known for a full year: social signals, defined as shares, comments, ReTweets and similar factors, is critical to guaranteed SEO results. It's a measure that allows every web user to vote on the quality of content, and it's remarkably difficult for companies to game.
Google Hummingbird
In honor of their 15th birthday last month, Google gave themselves the biggest algorithm rewrite since 2001. The changes for business owners aren't quite as drastic as the Panda update, but the new Google is lighter, quicker, and designed for answers to questions in an age where most searches are mobile.
To learn more about Google Hummingbird, check out our recent blog on the topic!
"I'm Still Not Convinced!"
Still not convinced that these emerging factors indicate that SEO isn't what it used to be?
Let's take a walk back to 2009, when optimizing your website for guaranteed SEO results could typically be achieved with the following factors:
Reciprocal Link Exchanges
Purchasing Backlinks
Article Spinning and Low-Quality Content
Ignoring User-Experience
Pointless Press Releases
Keyword-Stuffing
Cloaking and Invisible Text
Submitting Content to Article Directories
As Greg Haberman of Search Engine Watch points out, these SEO tactics just aren't valid anymore, and haven't been for a few years. In fact, you might be better off doing nothing to optimize your website than relying on poorly-repurposed content you scraped off your competitors blog. Obvious link acquisition or slow-loading websites are much more likely to make your rankings plummet than help your marketing strategy in any way, shape, or form.
Google is Smart
So, here's the thing. Google is whip sharp. In the early days of SEO, guaranteed SEO results were more like a game than a strategy. If you figured out the cheats, you were able to watch your site soar to the top. In the past few years, the search giant has wise up considerably to the wily ways of many black hat SEO professionals, and eliminated almost any possibility for a brand to buy their way to the top. Therefore, SEO is dead – in the sense that traditional concepts of SEO are gone forever. The concept of optimizing your website for search engines and people isn't going anywhere quickly, however.
The Only Way to Get Guaranteed SEO Results
There's exactly one path to guaranteed SEO results in the era of Google Hummingbird. Quality content – lots, and lots of it. If you're pouring hours into vague and probably ineffective SEO tactics like "link-building," it's high time to shift your focus to content marketing. Here are some ways to ensure you're on the right track for better search rankings, more traffic, better lead quality and other hallmark indicators of guaranteed SEO results:
Focus on Context, Not Keywords
It's not the greatest that Google's taken away keyword data, but it's a pretty important reminder for marketers to focus on what's important – the context that surrounds their content. You can create relevant, valuable, deep, and inspiring work for guaranteed SEO results, whether or not it's optimized around just the right key phrase.
Optimize Your Website for UX
The purpose of optimizing your website isn't to cram as many keywords as you possibly can on every page. It's to deliver an amazing user experience (UX) to your prospects and customers, so they can read and share your content marketing free of distraction. Chris Kilbourn of CrazyEgg recommends the following factors for on-page content:
Create a unique value proposition
Be different than your competition
Infuse your content with value
Create Lots of Different Types of Content
Guaranteed SEO results occur when companies create content their customers love. Google's getting much better at rewarding quality content creators by taking factors like time spent on pages and bounce rate into consideration, in addition to social signals. Don't focus on just text – create videos, webinars, eBooks, images, memes and more if it's what resonates with your audience.
Blog Often and Well
Creating more content could be key to the guaranteed SEO results you're striving for. Marketing research has found that the more you blog, the better your SEO rankings and chances of acquiring customers through content.
Be Social
There's really no way to simulate or force your content to go viral. Even seasoned marketing experts can struggle to determine the topics that are going to earn hundreds of thousands of views. However, increase your social signals by developing a social presence and taking the time to share other people's work. They'll likely reciprocate in kind!
How have you used content marketing to achieve guaranteed SEO results?