27+ Resources to Learn SEO Copywriting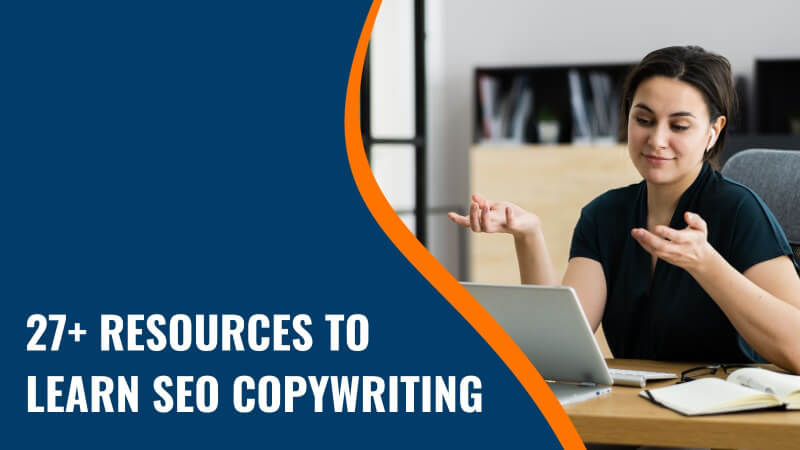 Copywriting is how companies sell things online. And offline. Smart businesses know this and are investing in learning how to use the written word to their full advantage. However, don't expect to reach scores of buying masses until you master SEO copywriting and leverage search traffic.
Quality content is great. It's necessary. But for marketing campaigns to be maximally effective, a copywriter must be able to produce copy that is persuasive and optimized. That is, the type of content that moves people AND attracts search engines. Invisible web pages don't sell products.
Is your writing up to scratch? Want to be able write high-converting copy that Google, Bing, and Yahoo will actually notice? Let the pros show you how.Here's a list of 29 resources that will help you improve your bottom line.
Don't forget to bookmark and share!
Learn SEO Copywriting: 27 Useful Online Resources
Blog Posts/Articles
1. Does SEO Copywriting Still Matter? – This post by Brian Clarke was written back in 2011, but it is still relevant today. The answer is yes, by the way.
2. SEO Copywriting: The Five Essential Elements to Focus On – Another golden oldie by Brian. He covers a few very important basics in this article.
3. 5 Steps to Getting More Targeted Website Traffic with SEO Copywriting – Neil Patel shares five battle-tested lessons presented as practical steps for those looking drive search traffic through content.
4. A Visual Guide to Keyword Targeting and On-Page SEO – Want to learn how to create web pages that are perfectly optimized for search? Rand Fishkin shows you how in this visual and detailed MOZ post.
5. 9 Simple Tips for Writing Persuasive Web Content – Writing for the web is not the same as writing for print. Henneke Duistermaat elaborates and provides nine practical (and rather colorful) copywriting tips.
6. 35 SEO Copywriting Tips for Rocking Content – A recent blog post by yours truly. Lots of solid tips and resources in this listicle.
7. 77+ Resources for Amazing Copywriting – Here's another one you might find useful. A massive list of resources to get you writing copy like a pro.
8. 10 Super Easy SEO Copywriting Tips for Improved Link Building – More links equals more traffic and sales, as well as more authority. Cyrus Shepard shows you how to organize your copy and earn links.
9. How to Optimize Your Headlines for Google and Humans – If you can't write magnetic SEO headlines, you can forget about generating traffic and clicks. Jonathan Rick shows you what effective headlines look like.
10. 12 Tips To Create Headlines for Clicks and Traffic – I'll say it again: master headline writing. Danny Goodwin looks at two approaches to headline copywriting and shares personal insights.
11. The Definitive Guide To SEO In 2023 – An informative post by Brian Dean that runs you through the basics of search and content optimization. A good starting point for business owners.
12. 58 Resources to Help You Learn and Master SEO – Effective web copywriters know what search engines want. Here is the only list you'll ever need to learn search engine optimization. Worth bookmarking.
13. Keyword Research 101: How to Discover New Keywords for Your Business – Without profitable keywords, SEO copywriting efforts are futile. This post by Samantha Winchell shows you how to discover great keywords.
14. How to Rank a Keyword: The Guide That Actually Tells You How! – It helps to know about search optimization. It certainly helps when you know how to rank for keywords.Travis Bliffen prepared a guide for those who don't.
15. 27 Best Copywriting Formulas: How to Tell a Captivating Story Online – Copywriters use formulas because they work. Kevan Lee provides almost two dozen great ones. Work some SEO best practices into your preferred method and you are good to go.
16. SEO Copywriting Tip: Mind Mapping – Produce quality optimized content, sure, but what happens when you are struggling to write something new? Alyson Harrold has a secret weapon for writer's block.
17. The 7 sins of SEO copywriting – Thou shalt not… skip this humorous Wordtracker article by Heather Lloyd-Martin. You could be making mistakes that are negatively affecting your rankings and conversions.
Infographics
18. 18 Tips to Write SEO-Friendly Content That Ranks in 2023 – SEO copywriting in 2023 focuses on giving useful information in a simple format. These tips will help you make content that gets top spots in search engines, draws good traffic, and gives readers the answers they need.
19. 13 Detailed Points SEO Copywriting Guide – This simple infographic outlines the steps to be taken in order to create optimized content that drives search traffic, wins readers, and convert sales.
Courses/Training/EBooks
20. SuccessWorks – Heather's agency/website is dedicated to teaching small business owners how to write powerful SEO copy. Check out the blog and/or sign up for their industry-endorsed training program.
21. How to write SEO content that ranks on search engines – Yet another quality Nutshell resource. 27 pages worth of tried-and-tested tips, secrets, and strategies for those looking to crush SEO copywriting.
22. The Ultimate Guide to SEO Copywriting in 2024 – This easy to understand guide by Saphia Lanier teaches you to write like a pro to attract valuable links and traffic and improve rankings. It's free, just log in and download.
23. 15 Free SEO eBooks Available For Download (PDF) – If you want to find great free SEO eBooks to download, check out this list. Alex Chris from Reliablesoft researched and made a list of the best SEO eBooks you can download in PDF.
24. Step-by-Step Copywriting Course – Karon Thackston lets you peek over her shoulder as she shows you how to write copy for better conversions, higher rankings, and more sales. It's endorsed by Wordtracker.
Books on Amazon
25. Content is Currency: Developing Powerful Content for Web and Mobile – This one comes highly recommended. "Jon Wuebben explains the fine art of content development by utilizing the latest SEO techniques."
26. Optimize: How to Attract and Engage More Customers by Integrating SEO, Social Media, and Content Marketing – If you know who Lee Odden is, then you probably know that you should grab this book. Good reviews.
Discussion Forums
27. Warrior Forum – One of the best free resources on the web for marketers, writers, and small businesses. It's absolutely packed with relevant information. Get real SEO copywriting critiques. Interact with real people.
Bonus: Check out this guide on SEO Copywriting to quickly learn the fundamentals.
So that's the list. Did I miss a good resource that deserves a mention? Let me know in the comments.