Case Study: How to Drive 300+ Backlinks to 1 Blog Post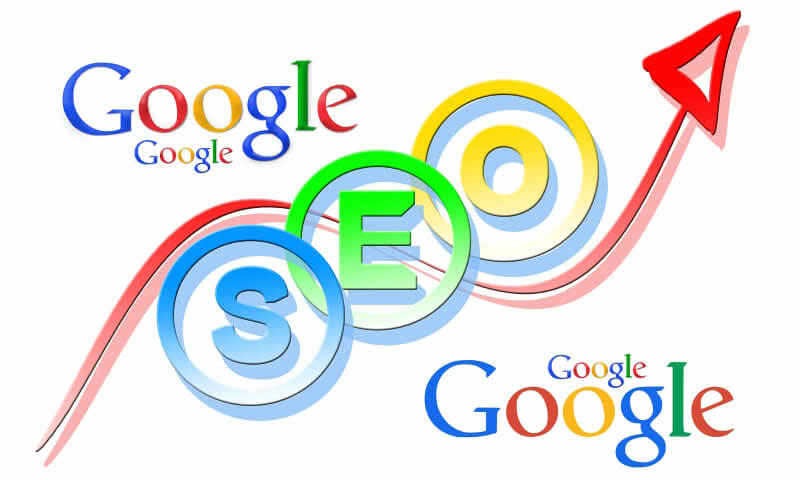 Today I will explain step by step how to write a blog post that will drive 300+ backlinks.
Let me introduce you to one of my favourite strategies – The Stats Post formula. I love it because of its simplicity.
First, I'll show you how I used this strategy step by step. And then we will study other examples in the SEO and Marketing industry, and other industries that have similar results.
This is so that you know that the strategy is easily repeatable and works for other industries as well.
The Stats Post is very easy to put together, mainly because it doesn't require much writing…
But it does require good research skills and an understanding of your market.
Let's dive right in.
The Stats Post Formula: Content Marketing Strategy that Drives Results
This blog post formula works for one main reason: It makes it incredibly easy for people creating content to make their writing sound authoritative and well-researched backed up by data.
… and this is how you get backlinks! People simply use data from your post and link back to you!
Exact stats are a great way to grab attention, which is what writers often do with data at the beginning of blog posts.
59 Killer Content Marketing Stats: 2023 Edition was put together in just 1100 words and is in essence a list of curated stats.
Let's look at data from Ahrefs.

The Stats Post attracted 309 backlinks from 86 domains without any promotion except for sharing on social networks.
Sounds like a great result, right?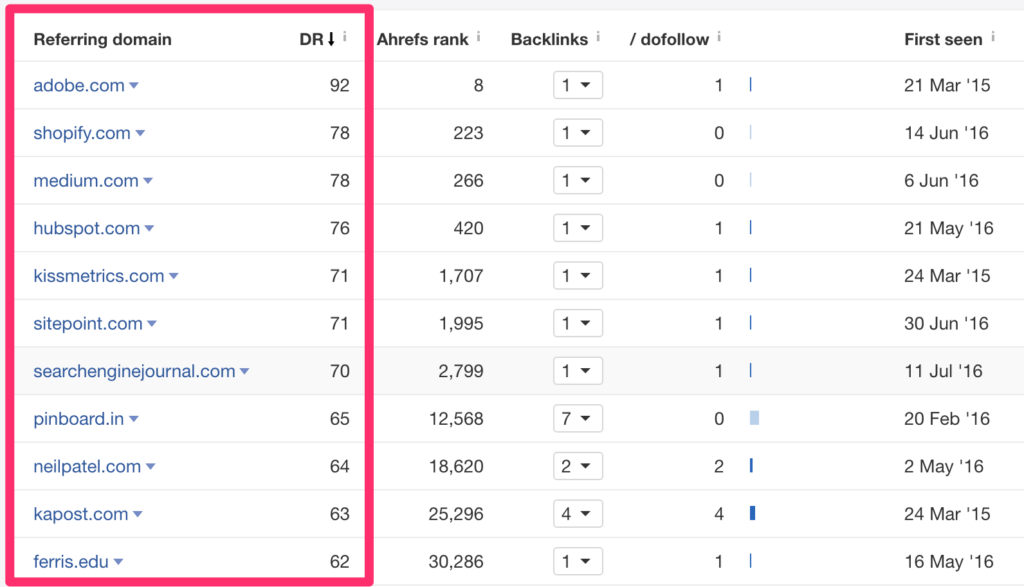 The post was mentioned by quite a few authoritative websites: Adobe, Shopify, Kissmetrics, NeilPatel, Kapost, and SearchEngineJournal.
And the best thing about it?
This was without any content promotion whatsoever!
Now let's see how people link to the post and exactly which words they are using.
Some more data from Ahrefs. It's time for anchors now!

11 websites linked to the Stats Post using the phrase "research has shown".
Why do you think people would use this anchor text?
To back up their opinions when writing blog posts!
Now, let's look at more anchor text…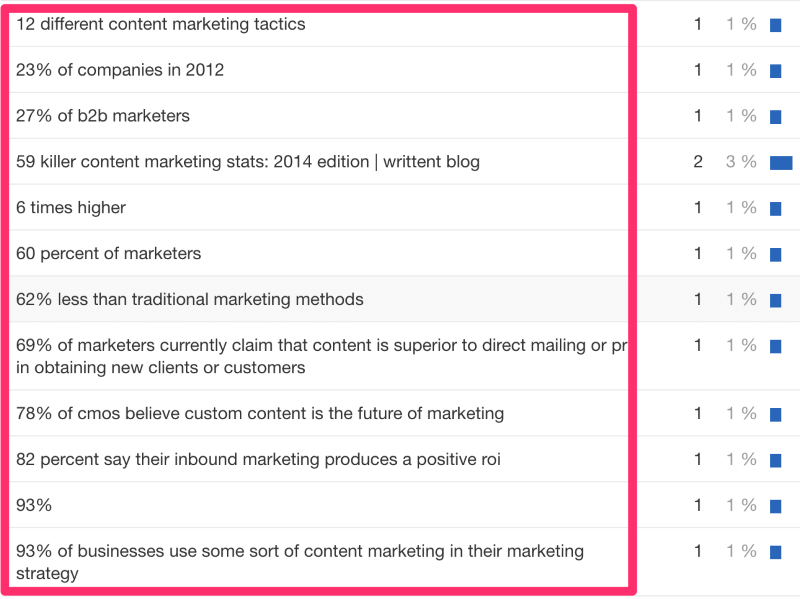 What this data tells us is that people from all over the web link to the post because of a variety of stats from the post.
And they use this data to back up their opinions. Which is what lots of content creators do, right?
Now, let's see if the pattern is consistent among other posts with statistics in the Marketing industry.
This is a resource page with industry stats curated by Kapost.

The page has 475 backlinks.
When it comes to anchor text, people link using exact data.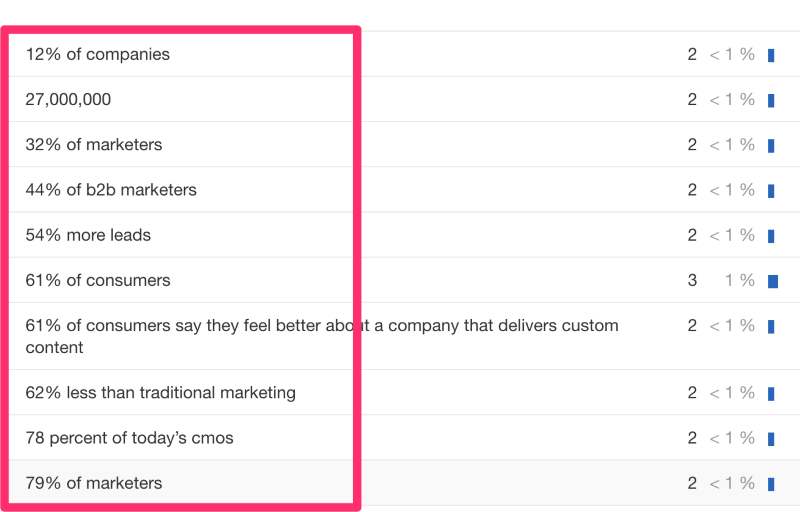 See the pattern?
For those who are still not convinced, let's look at another similar post curated by Contently.

Now let's look at anchor text of sites linking in…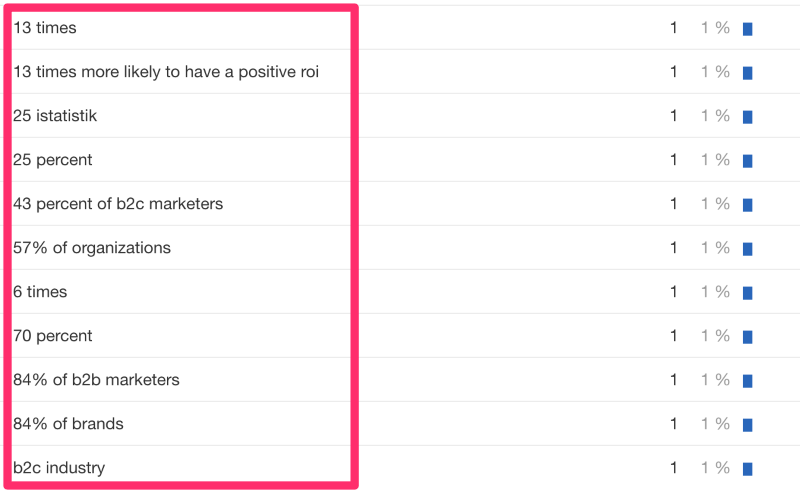 Now let's look at anchor text of sites linking in…
As you can see, the same exact data is in text people use to link.
Now, for those who are still not convinced that the Stats Post is a great way to attract links, feel free to check Ahrefs data for Content Marketing Statistics That Actually Drive Action by Caroline Gilbert and 2015 Online Marketing Survey by Moz.
Wondering if this blog post formula would work for other industries?
You bet!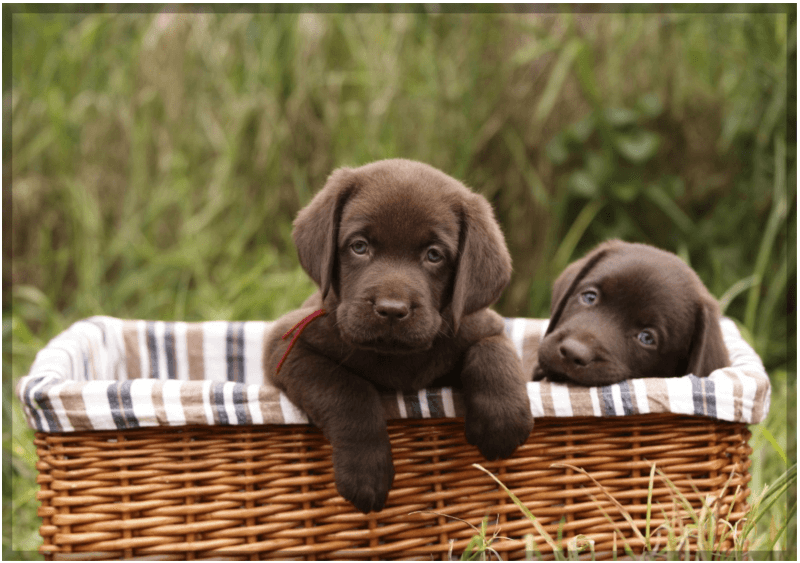 Here is a post with data about the most popular dog breeds in the US.
…that has a very simple table with data about the most popular dog breeds. The table looks like
this.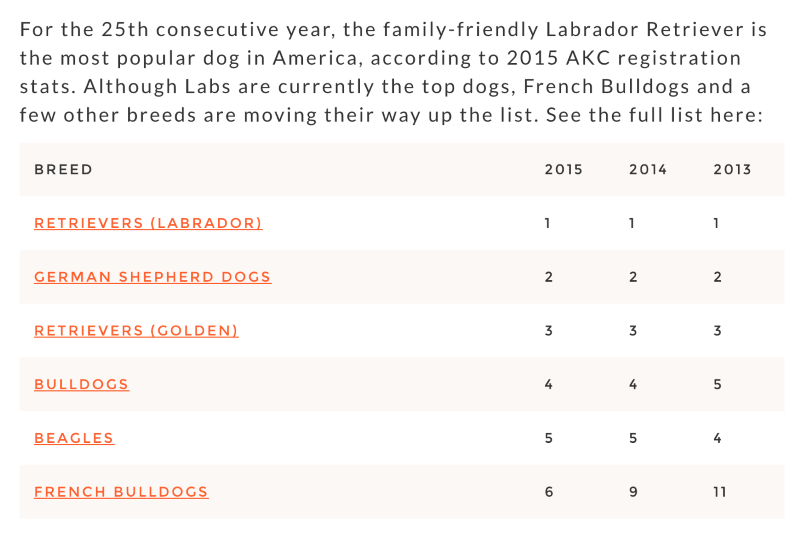 Now, let's look at data from Ahrefs to see the number of backlinks.

8,000+ backlinks, not too bad…
What about anchors?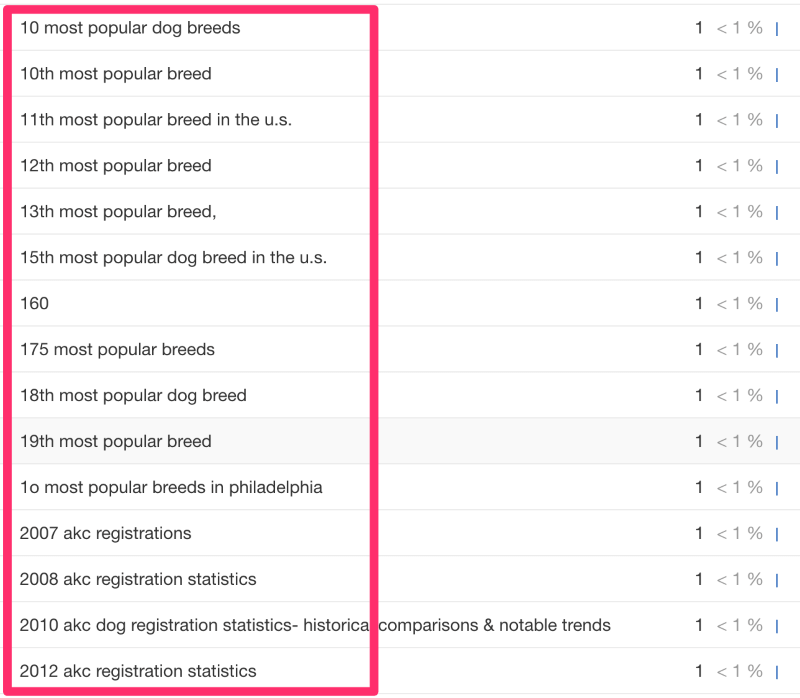 Surprise, surprise!
We can see exact stats in referring text.
Obviously the Stats Post can be used as an evergreen content asset by your team to naturally drive links to your website. These links then improve the rankings of the whole website.
Now, how difficult is it to put together such a post? Do you have to run real surveys?
A quick answer is… No!
You don't have to run any surveys – you can simply curate data from websites that run surveys annually.
In the Marketing industry this would be: Hubspot, Content Marketing Institute, Moz.
There are companies that run annual surveys in every industry.
So, you can simply curate the data.
If you want to take it a step further, you can come up with something like Google Algorithm Change History by Moz.
The resource page attracted a crazy 18.5k backlinks. So, yes, it works great as an evergreen content asset that consistently attracts backlinks year after year.
The resource page is also very easy to update – effortlessly, almost on autopilot.
Now, let's go through the simple process of creating this post step by step.
Let's stick to the topic of dogs, shall we?
Step 1: Do Keyword Research
My favourite tool for keyword research is SemRush. Mainly because it shows phrase match keywords and related keywords. And it's easy to switch between the two in case the keyword you are looking for doesn't have enough searches.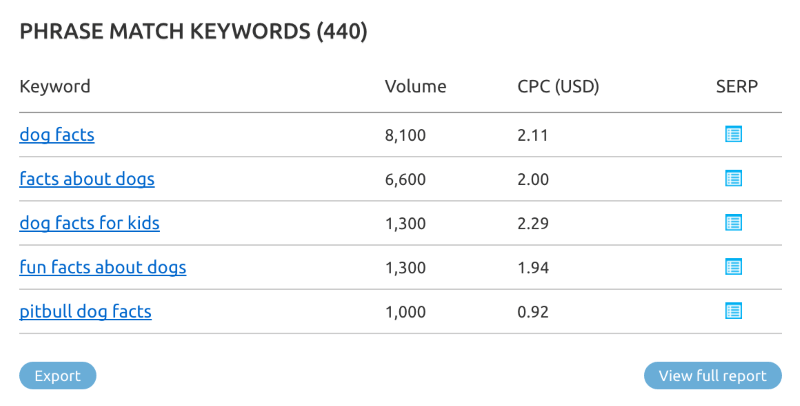 A quick search for "dog facts" brings up quite a few keywords you could use to come up with the Stats Post.
Step 2: Research Industry Data
At this stage, you want to answer this question: Who is the primary source of data for my topic?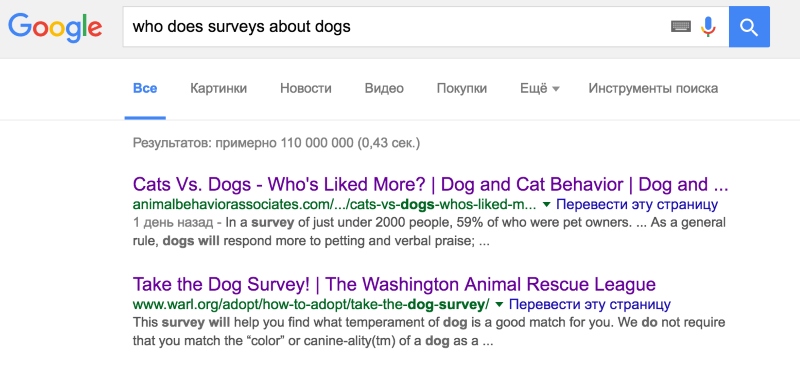 You can simply Google and then see which primary source the data comes from. Then look up the full report with data.
Step 3: Curate Your Post
Now, you want to structure data in a meaningful way. Use topical subheading and add images.
Pro Tip: Give Your Data Meaning That Backs Up Your Opinion
The term "education based marketing" was institutionalised by Chet Holmes. Basically, data can help you sell more.
For example, if you are selling SEO services, your post or resources page can be about SEO ROI. If you are selling dog food and one of the fears associated with dog food is not being healthy for dogs, then the resource page can be about dog nutrition.
Are you ready to give this content marketing strategy a shot? Share with me in the comments below!