Blog Formatting: How to Make Readers Love Your Blog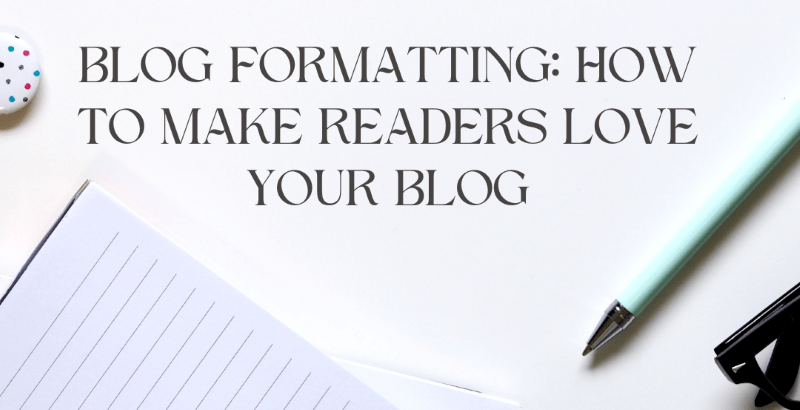 Blogging has become increasingly popular in recent years, especially with businesses now utilizing this little Internet secret to bump up traffic to their websites. It's magical, amazing, wonderful to be able to catch a potential client's attention and have them itching to learn more about what you're offering, whether it's a specific product or just a shared knowledge of something they're interested in. Nothing will stamp out that interest faster than a poorly formatted blog, though.
1. Be the Consumer
Think about your own likes and dislikes when planning out your blog page. What are some of the things that put you off when reading a post on a topic of interest? I know one of the first things that is sure to have me clicking that little X in the upper corner there is auto-play music or videos. I want to have control of what I'm looking at and listening to, not be forced into it upon opening a webpage.
And what about ads and all of those blinkie things? Most free blog hosting sites have some form of advertisement as part of the deal, but try to go for the lesser distracting ones if you're opting for the free hosting. Or, even better, pay a small fee to go ad-free on your site. Your clients will appreciate it.
2. Ease of Navigation
It's tempting, when you see what widgets are available for your blog, to add tons of them to your sidebar. But, again, this is a situation where less is more. Consider the most important things you want your clients to have easy access to, and go from there. Compile a few dropdown lists into a menu; that way, a client doesn't feel overwhelmed with all the activity going on around the post he or she is trying to read. It simplifies the page, while still offering more information about products and services your business offers, and making it easy to navigate around your blog.
Keep the menu bar simple and to the point. We've all seen those cutesy websites where everything listed along the menu is some clever play on words relating to their main website topic. While this can be fun, it's certainly not doing anything to make your blog more user friendly.
Make sure you've got an easy, one-click link on your page for readers and clients to easily subscribe to your blog. Don't make them work for it. If it isn't conveniently located on whichever page they're viewing, they may give up before they figure out how to find it.
3. Readability
Don't try to go over-the-top with your blog layout. Save that creativity for the content and stick to one of the many available templates for formatting your space. They're easy to use, keep your blog looking fresh and clean, and most of them are mobile friendly. Even with a pre-set template, a lot of bloggers will feel it necessary to add their own HTML to personalize it a bit more to their liking. More often than not, what this does is create a pleasant looking blog in only one format (usually web), and a mess of color and cubes in a reader or mobile format. Changing the existing text color in a template, for example, could look good to you as the designer, but once opened from a different reader, that pale yellow text on the default white background has just become impossible to see without highlighting.
There's also the matter of RSS Feed Readers. If you're stuck in the early ages of the Internet, you're probably still using the simple bookmarking method to find your way back to your favorite pages, but most people have moved on from that brand of cave-blogging. RSS readers are a more convenient way to keep track of all of your favorite blogs and websites. Unlike basic bookmarks, an RSS reader will also inform you when your favorite blogs post new updates. It's important for your readers and potential clients to be able to read these updates when they come in from whatever means they find suitable. Sticking to the basics and pre-set templates when formatting your blog will make it simple for the blog to be accessed and read across all platforms. Use the tools built in to your blog's editor. If you're still unsure of whether you've formatted properly, pull your blog up in Feedly or one of the other readers to see what it looks like.
4. Link Spamming
Adding links to your blog post is a fantastic way to drive up traffic to previous posts on your own blog, or even helpful materials on a separate one. I'm a firm believer in taking advantage of the convenience of linking your readers to information they may find pertinent, but too many links can be overwhelming. The idea is to give your readers the necessary information in an entertaining an informative way. If every other sentence is riddled with hot links, eventually they'll click away and not bother to find their way back. Keep it simple and to the point for ease of readability.
5. Break Up Your Text
A giant block of text can be intimidating, even if your client is excited to read what you have to say. Think of it in terms of a newspaper or book: As humans, we're pre-programmed to glance at these things and quickly determine the amount of time we'll need to put into reading them. Even if the post title is attention grabbing, long blocks of text without anything breaking them up can look rather daunting upon first glance. That usually leads to readers skimming the page as they scroll down, not actually reading the post, but searching for keywords and relevant information. As the writer of that post, you're sure all of it is relevant, so why wouldn't you want them reading the whole post and enjoying every word? Whether it's simply spacing your paragraphs apart more, adding the occasional link or photo, or even separating sections with their own titles or headers, the eye will naturally find this more appealing.
The most important thing to remember when formatting your business blog is that, if it doesn't look good to you, it's probably not going to look good to your readers or potential clients. Keep it clean and user-friendly, and don't underestimate the importance of that "subscribe" option.
Have any other blog formatting tips worked for you in the past? We'd love to hear your thoughts.