The Ultimate List of Blogging Tips and Resources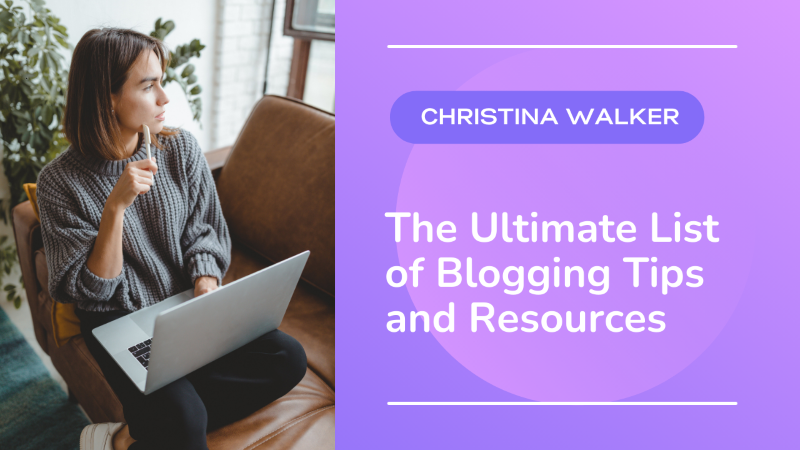 If you've been marketing your business online for any amount of time, you know that content marketing can be super powerful.
You probably also know that blogging is one of the best ways to make content marketing work for you.
But if you've never blogged before, or don't know how to start a business blog, blogging and content marketing can be a little intimidating. The problem is,
finding reputable resources to help you get started can be tricky, too.
That's why we've compiled this ultimate list of blogging tips and resources. We've done all the research for you and rounded up the best tips, tricks, and ideas we could find in one easy location. Here's to finally starting a business blog and making it work for you!
Resources Specifically for Business Blogging
How to Start a Blog: A Step-by-Step Guide to Creating a Business Blog by Writtent
In this two-part series about starting a blog for your business, we lay out the steps you need to take to get your corporate blog off the ground. Part 1 takes you through the back-end tasks of narrowing your focus, brainstorming ideas, and building your blog platform. Part 2 guides you through blog branding and content creation.
12 Blog Topic Ideas for Businesses
by Writtent
Sometimes the hardest part about blogging is constantly coming up with ideas for fresh, relevant, new content. Vary your content types with the ideas and tips in this article.
11 Pro Tips for Better Business Blogging
by Mashable
PageRank: 8 Alexa Traffic Rank: 315
The social media and technology mogul talked to 11 business blogging experts for their advice. With a mix of tried-and-true tips and some that seem counter-intuitive, this post will help you decide if business blogging is for you and show you how to do it better.
21 Business Blogging Tips from the Pros
by Social Media Examiner
PageRank: 6 Alexa Traffic Rank: 2701
The editorial team at Social Media Examiner interviewed 21 different business blogging experts for their best advice, and they are great blogging tips! Ranging from basics like owning your domain name to more advanced ideas such as owning your media, these tips will help you build a better business blog.
Business Blogging
category from ProBlogger
PageRank: 6 Alexa Traffic Rank: 3705
ProBlogger.com is considered one of the top blogs about blogging. With a high PageRank and tons of traffic, you can rest assured that everything published on this site is high quality and super helpful. The articles in the Business Blogging category help you understand why your business needs a blog, how blogging can help different types of businesses, and how to make your corporate blog really work for you.
More Tips and Tricks for Bloggers
Blogging for Beginners
from ProBlogger archives
PageRank: 6 Alexa Traffic Rank: 3705
This post from ProBlogger.net links to some of most helpful blogging tips for beginners, including posts on starting a blog, designing it, monetizing it, and getting traffic to it.
Blogging Tips You Should Know
from Smart Passive Income archives
PageRank: 5 Alexa Traffic Rank: 6435
Pat Flynn's Smart Passive Income Blog is a great resource for blogging and making money online. Although he generally writes for people starting personal blogs, that doesn't mean you can't learn from his experience and try his advice. He regularly tests his ideas, so you can be confident they work.
Daily Blog Tips
by Daniel Scocco
PageRank: 6 Alexa Traffic Rank: 6459
This whole site is devoted to offering the best blogging tips to all types of bloggers. The team covers everything from blog design to promotion to social media to writing blog content.
PageRank: 5 Alexa Traffic Rank: 17,493
Another site wholly devoted to offering great blogging advice, the team at BloggingTips.com tends to focus on blog writing, promotion, and social media with some coding and industry news thrown in.
The Sparkline
by Corbett Barr
PageRank: 4 Alexa Traffic Rank: 17,206
The team at The Sparkline focus mainly on getting more traffic to your site or blog. The best part is, the blogging tips and advice they offer aren't worn-out "Dominate the World with Twitter" style posts. They focus on creating quality and value and helping you do the same to explode your readership.
Some of their best blogging tips posts include:
What business blogging advice has worked for you? Are there blogging resources you think should be included in this list? Please let us know in the comments!